National Assembly of the Republic of Serbia / Activities / Activity details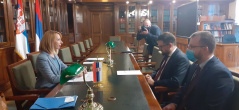 4 June 2021 Head of the National Assembly standing delegation to the OSCE PA Vesna Markovic in meeting with Polish Ambassador to Serbia Rafal Pawel Perl
Friday, 4 June 2021
Vesna Markovic Meets with Polish Ambassador
The Head of the National Assembly standing delegation to OSCE PA Vesna Markovic met today at the National Assembly House with Polish Ambassador to Serbia Rafal Pawel Perl.
---
Markovic stressed that Serbia's chief foreign policy goal is full EU membership, underlining that the support of Poland, as a country in favour of enlargement, is very important. She pointed out that Serbia is committed to regional cooperation, peace and stability in the region and can apply the good examples of cooperation within the Visegrad Group, especially as regards the "mini-Schengen" initiative.
The Ambassador said that Serbia has Poland's wholehearted support on the path to full EU membership, hoping that new negotiation chapters would be opened at the Intergovernmental Conference on 26 June.
He highlighted the good bilateral cooperation between Poland and Serbia, which would be further enhanced by the exchange of visits at the highest state level expected in the upcoming period. The officials agreed that there is room to improve parliamentary cooperation at the level of friendship groups, as well as at the level of committees.
---
---
tuesday, 30 november
11.30 - 51st meeting of the National Assembly Collegium (National Assembly House, 13 Nikola Pasic Square, hall 1)

13.00 - sitting of the Culture and Information Committee (National Assembly House, 13 Nikola Pasic Square, hall 3)

13.00 - Eighth Special Sitting of the National Assembly of the Republic of Serbia, 12th Legislature (National Assembly House, 13 Nikola Pasic Square)

13.30 - the National Assembly Speaker addresses Hanukkah celebration (National Assembly House, 13 Nikola Pasic Square, Small Hall)

13.30 - Hanukkah celebration (National Assembly House, 13 Nikola Pasic Square, Small Hall)