National Assembly of the Republic of Serbia / Activities / Activity details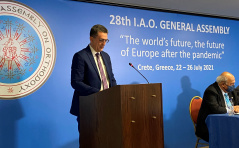 24 July 2021 Veroljub Arsic speaks at the IAO session
Thursday, 29 July 2021
Veroljub Arsic Speaks at IAO Session
The Head of the National Assembly's standing delegation to the Parliamentary Assembly of the Mediterranean (PAM) Veroljub Arsic and standing delegation member Tijana Davidovac took part in the 28th annual assembly of the Interparliamentary Assembly on Orthodoxy (IAO), held 22-25 July 2021 on Crete.
---
The General Assembly's main topic was "The future of the world, the future of Europe after the pandemic". The session was attended by representatives of national parliaments in the Interparliamentary Assembly on Orthodoxy, representatives of the orthodox church from different countries, observes and guests from international parliamentary organisations, as well as representatives of the local authorities.
Addressing the General Assembly, the Head of the National Assembly's standing delegation to PAM Veroljub Arsic said that most of our economies are experiencing a major economic crisis due to the COVID-19 pandemic and members of parliament should play a key role in economic recovery. The PAM Economic Panel on Trade and Investments is a useful tool for promoting good economic governance and proposing new orientations for a more inclusive, greener and sustainable Mediterranean. He stated that where the economic crisis is combined with political instability, the Mediterranean region is facing a dangerous security situation which is why PAM has organised several meetings on combating terrorism in cooperation with the United Nations. In that respect, the cooperation with the new UN Office in Qatar would be following the conduct of the programme on the Role of Parliaments in Addressing Terrorism and Violent Extremism Leading to Terrorism.
He went on to say that the Mediterranean region is not just a political "hot spot", that climate change will affect it in most cases and that this week PAM is present at the G20. He informed the attending that PAM would attend both KOP26 and KOP22 to create the momentum needed to ensure that governments take steps to align national strategies with the goals of the Paris Agreement and the UN Agenda 2030. He pointed out that MPs have a serious responsibility to respond to today's and take on future challenges, as do religious leaders, in order to encourage people to care for each other, to respect each other and to respect our environment.
On behalf of PAM, he urged the attending to continue the interfaith dialogue, under the auspices of PAM, in Rome in 2022.
---
---
sunday, 14 august
No announcements for selected date