National Assembly of the Republic of Serbia / National Assembly / Composition / Members of Parliament / MP
MP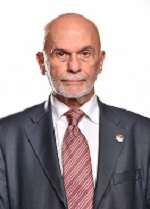 Photo gallery
VOJISLAV
MIHAILOVIC
Electoral List
Dr MILOS JOVANOVIC – HOPE FOR SERBIA – Serbia Coalition HOPE – National Democratic Alternative – Democratic Party of Serbia (DSS) – For the Kingdom of Serbia (MONARCHISTS) – Vojislav Mihailovic
Parliamentary group
HOPE – NEW DSS – POKS Parliamentary Group
(Deputy Head)
Political Party at whose proposal the MP was elected
For the Kingdom of Serbia (MONARCHISTS)
Date of Verification of MP's Mandate
01.08.2022.
Year of Birth
1951.
Occupation
Bachelor of Laws
Function in the National Assembly of the Republic of Serbia
National Assembly Deputy Speaker
Committee membership
Delegation membership
Residence
Belgrade, Stari grad
---
Biography
Born in Belgrade on 3 September 1951. Graduated from the Faculty of Law of the University of Belgrade in 1980. Worked as a lawyer before starting a private business. Involved in politics since 1993. Was an MP and Deputy Speaker of the Assembly of Serbia in several mandates, as well as Mayor of Belgrade. He is the grandson of General Dragoljub Draza Mihailovic, commander of the Serbian Royal Army in the homeland and leader of the Chetnik movement during World War II. President of the Movement for the Restoration of the Kingdom of Serbia. Married and father of two daughters.
monday, 11 december
No announcements for selected date