National Assembly of the Republic of Serbia / Activities / Activity details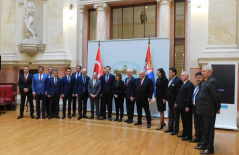 30 October 2019 Turkish businessmen visit the National Assembly
Wednesday, 30 October 2019
Turkish Businessmen Visit National Assembly
National Assembly Deputy Speaker Djordje Milicevic, the Head of the PFG with Turkey Prof. Dr Zoran Dragisic and the Chairman of the Foreign Affairs Committee Prof. Dr Zarko Obradovic, received a group of Turkish businessmen who greeted before the meeting by National Assembly Speaker Maja Gojkovic.
---
Djordje Milicevic said that the two countries which celebrate the 140th anniversary of diplomatic relations this year, share a common past as well as plans and projects for the future, such as project TurkStream, strategically exceptionally important for Serbia's future.
"According to estimates, the Turkish investments in Serbia have reached 200 million euros, five new companies are expected to be opened, and the countries are working hard on the infrastructural connection of the Balkans. Serbia is the regional leader in attracting foreign investment, resulting in the country's political and economic stability, built on a sound foundation", said Milicevic.
Prof. Dr Zarko Obradovic recalled last week's visit of a Serbian delegation to the Turkish Grand National Assembly where it was concluded that the two countries' bilateral and economic relations are at a high level, and their political dialogue is regular and comprehensive. Turkey has invested in many of Serbia's towns, while Serbia provides a highly qualified workforce, making the effort mutually beneficial.
Prof. Dr Zoran Dragisic said that the long-term goal of Serbia and Turkey's five-billion trade can be achieved very quickly. The fast developing economic cooperation can help promote cooperation in other areas such as education and culture.

"Turkish businessmen have invested into the least developed rural areas of Serbia, employed a considerable number of people and enabled them to stay in their home towns which is why we view the Turkish investments as more than just business, we see it as an act of friendship", said Dragisic.
Dr Mustafa Esgin, who was part of the Turkish delegation during President Recep Tayyip Erdoğan's recent visit to Serbia, addressed the hosts on behalf of the Turkish businessmen. He said that during President Erdoğan's visit, the two countries signed nine cooperation agreements, laid the foundation of the Belgrade-Sarajevo highway, and had a Serbia-Turkey-Bosnia and Herzegovina trilateral meeting.
The Turkish businessmen agreed that Serbia has a significant potential for investment into the economy and agriculture.
Turkish Ambassador to Serbia Tanju Bilgic said that, during his mandate, a number of factories have been opened, trade and student exchange increased, and the Turkish image in Serbia has been improved and vice versa.
The meeting was also attended by MP Dragan Markovic, as the host of the visiting Turkish businessmen, as well as MPs Prof. Dr Snezana Bogosavljevic Boskovic, Jelena Vujic Obradovic, Djordje Kosanic and Vojislav Vujic.


---
---
tuesday, 26 may
12.00 - press conference of MP Marinika Tepic (National Assembly House, 13 Nikola Pasic Square, Central Hall)

13.00 - press conference of MPs Sasa Radulovic, Branka Stamenkovic and Vojin Biljic (National Assembly House, 13 Nikola Pasic Square, Central Hall)

14.00 - press conference of MP Dr Nada Kostic (National Assembly House, 13 Nikola Pasic Square, Central Hall)

14.40 - press conference of MP Djordje Vukadinovic (National Assembly House, 13 Nikola Pasic Square, Central Hall)