National Assembly of the Republic of Serbia / Activities / Activity details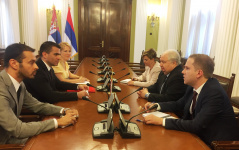 10 May 2018 National Assembly Deputy Speaker Djordje Milicevic in meeting with the Deputy Chairman of the Russian Federal Council International Affairs Committee Sergei Kislyak
Thursday, 10 May 2018
Traditionally Good Relations between Republic of Serbia and Russian Federation
National Assembly Deputy Speaker Djordje Milicevic met today with the Deputy Chairman of the Russian Federal Council International Affairs Committee Sergei Kislyak.
---
Kislyak took the opportunity to suggest having a joint meeting of assembly committees to continue the comprehensive cooperation between the two countries, supported by the reciprocal visits of their high dignitaries. The Deputy Chairman mentioned as example Armenia with which the Russian Federal Council has already had meetings of this kind which were exceptionally well received and mutually beneficial.
National Assembly Deputy Speaker Djordje Milicevic said that the two countries share a traditional friendship and political, economic and cultural cooperation, as well as the same history and religion, adding that cooperation would continue to develop in the same direction. "The 2013 Strategic Partnership Declaration and the 180 years of diplomatic relations which our countries will celebrate next year testify to this", said Milicevic. The Deputy Speaker also said that the 128 strong Parliamentary Friendship Group with Russia proves that Serbia sees Russia as a brotherly country. The two countries' excellent relations are also evidenced by the Russian State Duma - National Assembly of the Republic of Serbia Cooperation Commission, a unique and the highest form of cooperation in both national parliaments, said the Deputy Speaker and endorsed the idea of having a joint sitting of the legislative committees. Milicevic also said that Russia's support on the issue of the unilaterally declared independence of Kosovo-Metohija and prevention of its attempt to join UNESCO is extremely important for Serbia, hoping that the talks between Belgrade and Pristina would yield a compromise solution. He again said that Serbia has no intention of imposing sanctions against Russia, that it is a military neutral country which does not intend to join NATO and that EU accession is Serbia's priority.
Kislyak said that he was counting on the continuation of the good cooperation and reciprocal visits of dignitaries which would contribute to the quality of relations between Russia and Serbia, adding that Russia understands Serbia's European integration ambitions and respects its priorities, however they do not impede the traditionally good relations between Russia and Serbia.

The officials also discussed economic cooperation and the talks about the expansion of Banatski Dvor underground gas storage, the Russian President's visit to mark the 800th anniversary of the independence of the Serbian Orthodox Church and opening of St. Sava Church in Belgrade, stability in the region and participation of the two countries in international parliamentary conferences and forums on current global issues.


---
---
monday, 28 september
No announcements for selected date