National Assembly of the Republic of Serbia / Activities / National Assembly / Working Bodies / Committee Sittings outside of the National Assembly Seat / Details of the Committee sitting
Committee Sittings outside of the National Assembly Seat
Thursday, 22 December 2011
Thirty-Third Sitting of the Youth and Sports Committee
At the sitting held on 22 December, at "Cair" sports hall in Nis, the members of the Youth and Sports Committee were briefed on the organisation of the 10th European Men's Handball Championship to take place in Serbia, from 15 to 29 January 2012.
---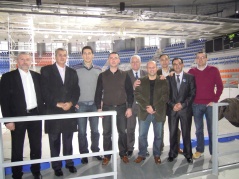 . The sitting was chaired by Committee Chairman Milan Vuckovic, and attended by Assistant Minister of Youth and Sport Dragan Atanasov and Serbian Handball Association Secretary General Bozidar Djurkovic and associates.
Serbian Handball Association Secretary General Bozidar Djurkovic said that the 10th jubilee European Men's Handball Championship – EURO 2012 was to start in less than 30 days and that Serbia was ready for the important sporting event as regards organisation. An Organisation Committee was formed in the preparations for the organisation of the championship, headed by Minister of Youth and Sport Snezana Samardzic Markovic, said Djurkovic.
The Secretary General went on to state that the championship would include 16 national teams, about 100 officials of the European Handball Federation (EHF) and their partners, more than 1000 representatives of the organisers and 120 volunteers. The sporting event will raise the ratings of Serbian handball and the sale of tickets will prove financially significant for Serbia. "Cair" sports hall in Nis, seating 4200, has been reconstructed and after the last EHF inspection the facility was accepted. The reconstruction of "Pionir" sports hall in Belgrade has been completed, the work is coming to en end at the "Spens" hall in Novi Sad and "Millennium" hall in Vrsac, and the Belgrade "Arena" meets almost all of the EHF requirements, stated Djurkovic.
The Committee went on to discuss the poor financial position of employees at physical culture institutions, concluding that it was necessary to include the Standing Delegation of Towns and Municipalities into seeking a solution to the problem.
Following the Committee sitting, the National Assembly's football team played a friendly mini football match against the team of the Leskovac local self-government in Vlasotince, which ended in a tie – 4:4.
Nis: Photo gallery
Other sessions of this committee
Contact the National Assembly Committee

Committee meetings outside the headquarters of the National Assembly are being organized and this sub-site has been produced with the support of the United Nations Development Program (UNDP) and the Swiss Agency for Development and Cooperation (SDC), as part of the project "Strengthening the oversight role and publicity in the work of the National Assembly." The views and content on this subpage do not necessarily represent the views of UNDP and the SDC.