National Assembly of the Republic of Serbia / Activities / Activity details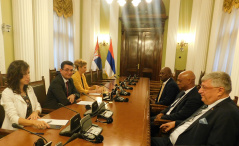 18 September 2018 National Assembly Deputy Speaker Veroljub Arsic in meeting with the Cape Verdean Minister of Foreign Affairs, Communities and Defence and Ambassador to Brussels
Tuesday, 18 September 2018
Tavares and Arsic Agree - Parliamentary Cooperation Excellent Opportunity to Advance Relations between Serbia and Cabo Verde
National Assembly Deputy Speaker Veroljub Arsic met with the Minister of Foreign Affairs, Communities and Defence of the Republic of Cabo Verde Luis Filipe Tavares and the Ambassador of the Republic of Cabo Verde in Brussels Jose Filomeno Monteiro.
---
Deputy Speaker Arsic thanked Cabo Verde for its principled decision not to recognize the unilaterally declared independence of Kosovo-Metohija, stressing that Serbia wants to see the issue resolved through a constructive dialogue between Belgrade and Pristina.
"Serbia has been under some political pressure to recognize the illegal declaration of independence of Kosovo, which is why we value your position. We would like to have more friends like you", said Arsic. Speaking of Serbia's Euro-integration process Arsic took the opportunity to thank Cabo Verde for its support.

He highlighted the traditionally good relations between the two countries, adding that there is ample room to advance them especially in the fields of science, culture, sport and through student exchange and youth activities. He emphasized the importance of interparliamentary cooperation, saying that its strength lies in the direct communication and joint activities of the members of the two parliaments.
The Minister of Foreign Affairs, Communities and Defence of the Republic of Cabo Verde Luis Filipe Tavares said that his is a historic visit as it is the first of its kind, and since he too is an MP he said he was especially pleased to be the guest of the National Assembly of the Republic of Serbia.
"We want to honour Serbia, which is what we did by not recognizing the unilaterally declared independence of Kosovo-Metohija", said Tavares. He agreed with Deputy Speaker Arsic that the two countries had historically cooperated much more closely adding that his country is willing to see the cooperation return to the same level. Tavares said he believes that parliaments should play a decisive role in it and that it would be important to open the doors to youth involvement through student exchanges, expressing his particular interest in the Belgrade Medical Faculty.
Tavares then presented the future Ambassador of Cabo Verde to Belgrade, currently the country's Ambassador to Brussels, Jose Filomeno Monteiro, who termed his new posting a return to Serbia where he originally began his studies. He said that in his ambassadorial duties his priority would be to improve cooperation between the parliaments, mentioning that the European Parliament has a Friendship Group with Cabo Verde and inviting Serbia to join it, which Deputy Speaker Arsic was pleased to hear saying that he would inform the Head of the Serbian Progressive Party Parliamentary Group to make sure that the initiative be put before the members of the National Assembly as soon as possible.
The meeting was also attended by the Serbian Ambassador to Cabo Verde Oliver Antic.


---
---
thursday, 24 september
No announcements for selected date