National Assembly of the Republic of Serbia / Activities / Activity details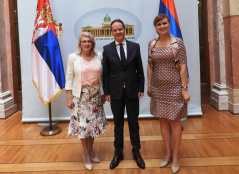 13 September 2019 Members of the PFG with Switzerland Obradovic and Filipovski and Swiss Ambassador to Serbia H.E. Philippe Guex
Friday, 13 September 2019
Swiss Ambassador Visits PFG with Switzerland at National Assembly
The Head of the PFG with Switzerland Jasmina Obradovic and PFG member Dubravka Filipovski met today with Swiss Ambassador to Serbia H.E. Philippe Guex to discuss advancing cooperation between the parliaments of Serbia and Switzerland.
---
The officials agreed that there is ample room to advance, strengthen and intensify parliamentary cooperation. To that end, Ambassador Guex conveyed the wish of the Swiss parliamentary delegation to the coming 141st IPU Assembly in Belgrade in October to meet with the members of the PFG with Switzerland on the margins of the summit.
The Head of the PFG with Switzerland Jasmina Obradovic said that it is an honour for Belgrade to host the 141st IPU Assembly on the 130th anniversary of the international parliamentary organization, 56 years after the first time it hosted this event.
"This is a testament to the affirmation of Serbia's international status and renown and Serbia will continue to actively and consistently pursue the policy of keeping international peace and stability. In that context, it is our wish to intensify cooperation with our Swiss colleagues as well", said Obradovic.
Ambassador Guex said that his country recognizes Serbia's role and contribution to peace and stability in the region and, as one of Serbia's biggest bilateral donors, supports the country's efforts to keep them. Switzerland supports the realization of programmes with the National Assembly, as well as with local parliaments aimed at boosting transparency, oversight capacities and control over the implementation of laws by the executive.
PFG member Dubravka Filipovski praised the Swiss colleagues' initiative and said that, as the chair of the GOPAC National Branch, she is taking active part in the programmes supported by Switzerland, adding that a meeting between Serbian and Swiss parliamentarians would be an excellent opportunity to exchange experiences in the area.
Ambassador Guex and the members of the PFG with Switzerland agreed that the parliamentary cooperation between the two countries should be strengthened and intensified after the meeting with the Swiss parliamentarians.


---
---
monday, 16 may
No announcements for selected date