National Assembly of the Republic of Serbia / Activities / Activity details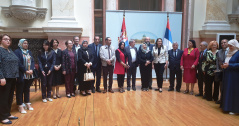 9 July 2019 The PFG with Algeria in meeting with the Algerian parliamentary delegation
Tuesday, 9 July 2019
Sustainable Development Goals Very Important for Serbia and Algeria
Maja Macuzic Puzic, Head of the Parliamentary Friendship Group with Algeria, greeted the Algerian parliamentary delegation in official visit to Serbia organized by the United Nations Development Programme (UNDP) Serbia.
---
She informed the delegation that the PFG boasts 16 MPs from different political parties, adding that she was pleased to hear that the Algerian parliament has a friendship group with Serbia. The relations between the two parliaments have been following an upward trend in the last few years and the Algerian delegation's visit is very important for the further development and deepening of said cooperation. She hopes the delegation will have the opportunity to learn more about the National Assembly and its work during the visit and be ready to promote cooperation at the level of working bodies. Macuzic Puzic spoke about Serbia and Algeria's cooperation at the level of international parliamentary organizations such as the Inter-Parliamentary Union and the Parliamentary Assembly of the Mediterranean, and thanked Algeria for its support of Serbia in the Pan-African Parliament. Saying that the 2017 Memorandum of Cooperation needs to be set in motion, she stressed that Serbia would continue to support international law, cooperation and dialogue. Serbia will also promote cooperation in the fields of economy, energy and tourism, as well as in combating crime and terrorism as planet-wide challenges. The PFG Head praised the cultural cooperation, hoping that some of the "World in Serbia" scholarships would go to Algerian students.
The head of the Algerian parliamentary delegation Jafar Noara Sadia thanked the PFG for the warm welcome, opining that this visit would lend new momentum to the cooperation between the two parliaments and states. She said that the cooperation needs to be deepened in view of the social and economic challenges faced by both countries, with an accent on an exchange of experiences and different approaches to problem-solving, especially since both countries are dedicated to the implementation of sustainable development goals. She highlighted the importance of the parliament and its supervisory and control role in view of the fact that it assists the executive by organizing public hearings on the legislation the government submits. She said that the Algerian Foreign Ministry will be presenting a Report at the UN General Assembly focusing on the SDGs and strategic partnerships with other countries. She spoke about a potential presidential election and human rights movements in Algeria.
The meeting with the Algerian parliamentary delegation was also attended by PFG members Dragomir Karic, Dr Muamer Zukorlic, Prof. Dr Ljubisa Stojmirovic, Josip Broz, Olivera Ognjanovic and Natasa St. Jovanovic.


---
---
wednesday, 6 december
No announcements for selected date