National Assembly of the Republic of Serbia / Activities / Activity details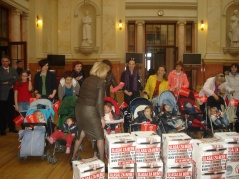 16 March 2012 Submission of citizens' signatures calling for the abolition of VAT and limitation of trade margins on baby equipment and food
Friday, 16 March 2012
Submission of Citizens' Signatures Calling for Abolition of VAT and Limitation of Trade Margins on Baby Equipment and Food
The Speaker of the National Assembly of the Republic of Serbia, Prof. Dr Slavica Djukic Dejanovic attended the submission of citizens' signatures to the National Assembly in support of the initiative of B92 Fund to abolish VAT and limit trade margins on baby equipment and food.
---
The National Assembly Speaker, who was among the first to sign the initiative, said that there were two formal options to concretize the initiative – the Serbian Government can pass an ordinance to abolish VAT and limit trade margins on baby equipment and food, or submit a Bill on it to the parliament.
Djukic Dejanovic pointed out that we have come a long was in the sphere of children's rights protection which is evident in the fact that the Council of Europe, UNICEF and other important international institutions recognised the National Assembly's Children's Rights Working Group as the key factor in the improvement of the rights of children in Serbia. The Group is a body which, for the first time, deals with the achievement of children's rights on the legislative level in an institutionalized manner in Serbia and will in the next legislature become a Committee.
National Assembly Speaker Slavica Djukic Dejanovic wished the future parents who used baby strollers to wheel in the signatures into the National Assembly today, that they may soon be using the strollers for their own children.

---
---
monday, 3 october
11.00 - the Chairman of the Foreign Affairs Committee meets with the Cypriot Ambassador to Serbia (National Assembly House, 13 Nikola Pasic Square, hall 2)

12.00 - sitting of the Culture and Information Committee (National Assembly House, 13 Nikola Pasic Square, hall 4)

Following the sitting of the Culture and Information Committee - press conference of MP Sinisa Kovacevic (National Assembly House, 13 Nikola Pasic Square, Central Hall)

12.30 - press conference of MP Nebojsa Bakarec (National Assembly House, 13 Nikola Pasic Square, Central Hall)

13.00 - the National Assembly Speaker meets with the Canadian Ambassador to Serbia (National Assembly House, 13 Nikola Pasic Square, hall 1)