National Assembly of the Republic of Serbia / Activities / Activity details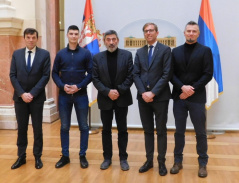 17 January 2020 MP Prof. Dr Ljubisa Stojmirovic with the delegation to the Slovenian Ministry of Education, Science and Sport
Friday, 17 January 2020
Stojmirovic Receives Delegation to Slovenian Ministry of Education, Science and Sport
MP Prof. Dr Ljubisa Stojmirovic met today at the National Assembly House with a delegation to the Slovenian Ministry of Education, Science and Sport.
---
The officials agreed that the parliamentary relations between the two countries are traditionally good and that the Republic of Serbia and the Republic of Slovenia have been friendly throughout history. Prof. Dr Ljubisa Stojmirovic said he hoped the two countries would continue to cultivate good relations in future at all levels.
"The countries of the former Socialist Federal Republic of Yugoslavia should have common strategic goals and differ only in the ways these goals are achieved. Serbia and Slovenia will always be connected in some way so mutual support is vital", said Stojmirovic.
Stojmirovic went on to speak about the good cooperation with all the national minorities in the Republic of Serbia, stressing that the country is promoting the spirit of tolerance and dialogue between all the people living on its territory. He stressed that education and healthcare are the two pillars of society and educational cooperation with Slovenia is vital for national minorities.


---
---
monday, 16 may
No announcements for selected date