National Assembly of the Republic of Serbia / Activities / Activity details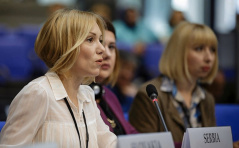 26 September 2019 MP Stefana Miladinovic, Head of the National Assembly's standing delegation to OSCE PA
Friday, 27 September 2019
Stefana Miladinovic Appointed OSCE PA Special Rapporteur on Digital Agenda
The President of the Parliamentary Assembly of the Organization for Security and Co-operation in Europe (OSCE PA) George Tsereteli appointed Stefana Miladinovic, Head of the standing delegation of the National Assembly of the Republic of Serbia to OSCE PA, the Assembly's Special Rapporteur on Digital Agenda.
---
Tasked with examining the topic of digitalization and working in close co-operation with the OSCE PA's Committee on Economic Affairs, Science, Technology and Environment, Miladinovic will report back to the President and the Assembly by the July 2020 Annual Session.
"The digitalization process that is taking place across the OSCE area is substantially changing all spheres of life. This process is producing opportunities for cross-border co-operation and confidence-building between the member states, especially in the economic and environmental dimension. However, the digitalization process is also carrying many security implications that need to be adequately addressed", said Miladinovic.
The OSCE PA Special Rapporteur on Digital Agenda is mandated to: raise awareness within the OSCE Parliamentary Assembly regarding the benefits and the security implications of the digitalization process, promote within the OSCE area an inclusive digital society, monitor the developments on digital transformation and communicate with relevant actors within the OSCE region.



---
---
tuesday, 25 january
12.00 - the National Assembly Speaker meets with representatives of the Chamber of Nurses and Healthcare Technicians (National Assembly House, 13 Nikola Pasic Square, hall 1)