National Assembly of the Republic of Serbia / Activities / Activity details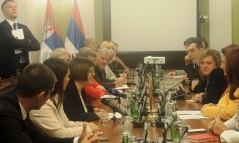 26 July 2016 The National Assembly Speaker and members and the Slovak Ambassador
Tuesday, 26 July 2016
Speaker and MPs Briefed on Priorities of Slovak Presidency of EU Council
On 1st July Slovakia assumed presidency of the Council of the European Union. On the occasion, Slovak Ambassador in Belgrade H.E. Dagmar Repcekova briefed the National Assembly Speaker and members on the priorities of the presidency.
---
National Assembly Speaker Maja Gojkovic thanked the Slovak Ambassador for her wish to present the plan and priorities of the Slovak presidency to the parliament as this demonstrates how important the role of the National Assembly is in Serbia's EU accession process. She was also pleased by the fact that chapters 23 and 24 were opened during the Slovak presidency.

"The support for the opening of negotiation chapters sends a message to Serbia and its citizens that we are on a good path, that the political and economic reforms do have support and that the EU enlargement is not suspended, but continues", said Gojkovic.

She is sure that Slovakia and Serbia will enjoy good cooperation especially at the level of the European Integration Committee and hopes that negotiation chapters 5, 20, 25 and 26 will be opened in the course of the Slovak presidency.

"We know that what awaits us is a long road and comprehensive efforts, but we are sure that it can be accomplished through cooperation", stressed Gojkovic adding that the most important message is that the door to the EU is not closing despite the challenges the Union faces.

In her presentation, Ambassador Repcekova said that at the very onset Slovakia was faced by two big problems – Brexit and the migrant crisis, but she is pleased to note that the enlargement process is not halted. She stressed that she is aware of the difficulties Serbia encountered when it came to opening negotiation chapters 23 and 24 and that considerable effort had been invested to contact and talk to the EU member states that wanted to postpone the international conference for September because this would slow down the opening of these chapters.

She stated that Slovakia's chief goal is to be an honest and fair mediator in the fulfilment of EU strategic priorities. She also said that Slovakia wishes to prove to the citizens of the EU that common European projects have a practical effect on the improvement of their quality of living, and will strive to achieve results contributing to better ties between the member states on the single market.

The presidency will rest on four pillars: economically strong Europe, modern single market, sustainable migrant and asylum policies and globally engaged Europe.

The European Integration Committee Chairperson thanked Slovakia for its perseverance in the intention to lift the last obstacles to Serbia's opening of negotiation chapters. She was grateful for the team work, which is how EU members should operate, and the appreciation of the efforts Serbia has so far invested in the opening of negotiation chapters.


---
---
monday, 3 october
11.00 - the Chairman of the Foreign Affairs Committee meets with the Cypriot Ambassador to Serbia (National Assembly House, 13 Nikola Pasic Square, hall 2)

12.00 - sitting of the Culture and Information Committee (National Assembly House, 13 Nikola Pasic Square, hall 4)

Following the sitting of the Culture and Information Committee - press conference of MP Sinisa Kovacevic (National Assembly House, 13 Nikola Pasic Square, Central Hall)

12.30 - press conference of MP Nebojsa Bakarec (National Assembly House, 13 Nikola Pasic Square, Central Hall)

13.00 - the National Assembly Speaker meets with the Canadian Ambassador to Serbia (National Assembly House, 13 Nikola Pasic Square, hall 1)