National Assembly of the Republic of Serbia / Activities / Activity details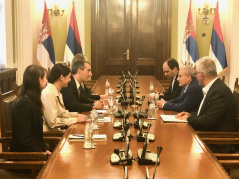 5 October 2022 National Assembly Speaker Dr Vladimir Orlic in meeting with the Ambassador of the Islamic Republic of Iran to the Republic of Serbia Rashid Hassan Pour Baei
Wednesday, 5 October 2022
Serbian National Assembly Speaker with Iranian Ambassador: We Continue to Work Together on Furthering Cooperation
The Speaker of the National Assembly of the Republic of Serbia Dr Vladimir Orlic met today with the Ambassador of the Islamic Republic of Iran to the Republic of Serbia Rashid Hassan Pour Baei to discuss the further development of cooperation and the continuation of activities aimed at strengthening and deepening relations between the two countries, especially in the fields of economy, business and culture.
---
As the National Assembly Speaker pointed out, Serbia is fundamentally determined to further improve relations with Iran, which are good, based on the friendship between the two peoples, mutual respect and understanding. He especially thanked Iran for respecting the sovereignty and territorial integrity of our country and not recognising the independence of so-called "Kosovo".
The Iranian Ambassador said that the two countries share positions on many issues, among them respecting the territorial integrity and sovereignty of all states. He affirmed the position that Iran does not recognise the unilaterally declared independence of so-called "Kosovo" and praised the efforts and "wise policy" of Serbian President Aleksandar Vucic in terms of defending the basic principles of international law.
Dr Orlic thanked Iran for its principled and consistent position on the most important political issues for Serbia. "We secured the majority in the United Nations as regards the number of states that do not recognise the fake state, and Serbia is recognised in the world as a country that consistently observes international law and is a reliable partner," said the National Assembly Speaker.
The officials emphasised the importance of interparliamentary cooperation, expressing their belief that the Parliamentary Friendship Group with Iran in the new legislature of the Serbian Assembly would contribute to a stronger connection between the two parliaments.
---
Photo gallery
---
---
tuesday, 6 december
10.00 - continuation of the Third Sitting of the Second Regular Session of the National Assembly of the Republic of Serbia in 2022 (National Assembly House, 13 Nikola Pasic Square)

11.00 - press conference of MP Alaksandar Jerkovic (National Assembly House, 13 Nikola Pasic Square, Central Hall)

12.00 - the Chairperson of the European Integration Committee meets with the coordinator of the National Convention on the European Union (National Assembly House, 13 Nikola Pasic Square, hall 2)

12.00 - press conference of MP Slavisa Ristic (National Assembly House, 13 Nikola Pasic Square, Central Hall)

17.00 - sitting of the Committee on Finance, State Budget and Control of Public Spending (National Assembly House, 13 Nikola Pasic Square, hall 3)

18.00 - sitting of the Committee on Constitutional and Legislative Issues (National Assembly House, 13 Nikola Pasic Square, hall 2)