National Assembly of the Republic of Serbia / Activities / Activity details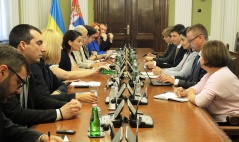 28 July 2016 The members of the European Integration Committee in meeting with the Ukrainian Vice Prime Minister for European and Euro-Atlantic Integration
Thursday, 28 July 2016
Serbia and Ukraine for Improvement of Parliamentary Cooperation in International Organisations
The members of the European Integration Committee met today with Ukrainian Vice Prime Minister for European and Euro-Atlantic Integration Ivanna Klympush-Tsintsadze, currently visiting Serbia.
---
The officials concluded that raising parliamentary cooperation to a higher level and exchange of experiences concerning European integration, especially intensification of cooperation between parliamentarians in international organisations, would provide new inputs in the relations between Serbia and Ukraine.

European Integration Committee Chairperson Marinika Tepic thanked the Ukrainian Vice Prime Minister for the non-recognition of the unilaterally declared independence of Kosovo-Metohija, adding that she was pleased that, in addition to Chapter 35 which concerns the application of the Brussels Agreement, chapters 23 and 24 were also opened which lends momentum to Serbia's progress in the EU accession process.

"Serbia is ready to open several new chapters, but the most important things consider chapters 23 and 24 not just as regards standardisation, but also the application of standards and what is known as the EU acquis. We follow the developments in the EU very closely from the migrant crisis, terrorism and its challenges, to the fallout of Brexit, and we appreciate the fact that despite all this the EU does not neglect but continues its enlargement policy", stressed Tepic.

Ukrainian Vice Prime Minister Ivanna Klympush-Tsintsadze opined that the European integration committees in both the Serbian and Ukrainian parliaments play a vital role in the European integration process, also expressing readiness to intensify cooperation between the parliamentarians.

She congratulated Serbia on the opening of the negotiation chapters, adding that she expected that by the end of the year, during Slovakia's presidency of the EU, Serbia would open more chapters, which would encourage Ukraine on its own path to Europe.

Klympush-Tsintsadze said that Ukraine considers the presence of its soldiers in the peace corps in Kosovo very important especially since in the previous period they protected Serbian holy sites, of which Ukraine is especially proud. She thanked Serbia for its recognition of Ukraine's territorial integrity, saying she was sure that dialogue and diplomatic talks with the support of European partners will contribute to the realisation of the Brussels Agreement and resolution of the crisis in Ukraine.

The members of the European Integration Committee were pleased to hear of the willingness to improve parliamentary cooperation, offered Serbia's experiences of the European integration process and urged for an expansion of overall cooperation between Serbia and Ukraine.

Besides the Committee Chairperson the meeting was attended by Committee members Dusica Stojkovic, Gordana Comic, Elvira Kovacs, Vesna Markovic and Vladimir Orlic, co-chairman of the EU-Serbia Stabilisation and Association Parliamentary Committee in the previous legislature.


---
---
friday, 7 october
No announcements for selected date