National Assembly of the Republic of Serbia / Activities / Activity details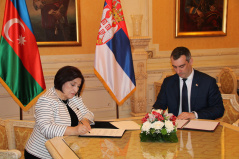 25 May 2023 The Speakers of the Assemblies of Serbia and Azerbaijan sign a Memorandum of Understanding
Thursday, 25 May 2023
Serbia and Azerbaijan Assembly Speakers Sign Memorandum of Understanding
The Speaker of the National Assembly of the Republic of Serbia Dr Vladimir Orlic and the Speaker of the National Assembly of the Republic of Azerbaijan (Milli Majlis) Prof. Dr Sahiba Gafarova, signed a Memorandum of Understanding between the two parliaments. The officials agreed that the Memorandum will encourage the strengthening of overall parliamentary cooperation at all levels and that it represents another confirmation of the friendship between Serbia and Azerbaijan.
---
In the course of the meeting with Speaker Gafarova, Dr Orlic pointed out that her visit to Belgrade has a historical character and that it is particularly significant that it is taking place immediately after their meeting in Baku, where he participated in a special session of the Milli Majlis.
They also affirmed that the recent exchange of visits of Serbian President Aleksandar Vucic and President of Azerbaijan Ilham Aliyev, as well as their mutual respect, lent a strong impetus to the intensification and deepening of comprehensive bilateral relations and strategic cooperation.
The Azerbaijan Parliament Speaker opined that the relations between the two countries are developing dynamically, based on traditional friendship and mutual understanding. She confirmed that the Republic Azerbaijan continues to support Serbia's territorial integrity and sovereignty, which Dr Orlic thanked her for. "I would especially like to thank Azerbaijan for its principled stance during the recent vote in the Council of Europe on the initiation of the procedure to consider so-called "Kosovo" for membership, which we regard as an act of sincere friendship," said Dr Orlic, taking the opportunity to inform Speaker Gafarova in detail about the extremely difficult situation in Kosovo-Metohija, daily threats to the security of the Serbian people and the usurped power in the municipalities where Serbs live, which is a clear indication of Pristina's intentions to instigate open conflict.
The Speakers of the Assemblies of Serbia and Azerbaijan confirmed the determination that the two countries will continue to work toward further development and improvement of mutually beneficial cooperation in the future, especially in the economic and energy fields, as well as in the fields of culture, education and sports.
The meeting with the Speaker of the Parliament of the Republic of Azerbaijan was attended by the Deputy Speaker of the National Assembly of the Republic of Serbia Sandra Bozic, Head of the Parliamentary Friendship Group with Azerbaijan Dusan Maric, Head of the Parliamentary Friendship Group with Turkey Muamer Bacevac, as well as Marina Ragus, Deputy Chairperson of the Foreign Affairs Committee.
---
Photo gallery
---
---