National Assembly of the Republic of Serbia / Activities / Activity details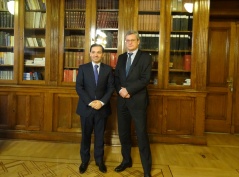 7 December 2016 The National Assembly Deputy Speaker and the Austrian Ambassador to Serbia
Wednesday, 7 December 2016
Serbia Has Austria's Full Support for Opening Chapters 5, 25 and 26, Says Austrian Ambassador to Deputy Speaker Marinkovic
National Assembly Deputy Speaker Prof. Dr Vladimir Marinkovic met today, at the National Assembly House, with the Austrian Ambassador to Serbia, H.E. Johannes Eigner.
---
On the behalf of the National Assembly, Deputy Speaker Marinkovic thanked Austria for its support on Serbia's path to Euro-integration while Ambassador Eigner assured him that Serbia can count on firm support on the opening of negotiation chapters 5, 25 and 26.

Speaking of the quality and potential for advancement of economic cooperation between the two countries Marinkovic stressed that Austria is the biggest investor into our country and that Serbia endorses the concept of chamber system and the idea of dual education, realised in cooperation with the representatives of the Austrian Chamber of Commerce.

Marinkovic hopes that the Austrian companies would take active part in the construction of the Belgrade-Budapest railway, and, as the Head of the National Assembly Economic Caucus, suggests meeting with Austrian businessmen so that they could, within their respective scopes, help the drafting of legislation conducive to the creation of a good investment environment.

"Serbia wants to be the economic leader in the Western Balkans and provide the best conditions for foreign investment in the region. We know this is a huge task, but we are ready to work hard on its realisation", stressed Marinkovic.

Ambassador Eigner highlighted the importance of strong economic relations between Serbia and Austria and endorsed the idea to foster ties between businessmen and representatives of the parliament. He also drew attention to the significant role Serbia plays in regional stability, important not just for the investment climate, but for the whole region's Euro-integration. The officials agreed that the two countries' intensive economic cooperation should serve as a model for educational and cultural cooperation.

Marinkovic took the opportunity to thank Ambassador Eigner for the translation of Filip David's book "House of Memory and Oblivion" into German, and ensuring that the truth about the Holocaust in Serbia is heard abroad.


---
---
| M | T | W | T | F | S | S |
| --- | --- | --- | --- | --- | --- | --- |
| 27 | 28 | 29 | 30 | 31 | 1 | 2 |
| 3 | 4 | 5 | 6 | 7 | 8 | 9 |
| 10 | 11 | 12 | 13 | 14 | 15 | 16 |
| 17 | 18 | 19 | 20 | 21 | 22 | 23 |
| 24 | 25 | 26 | 27 | 28 | 29 | 30 |
| 31 | 1 | 2 | 3 | 4 | 5 | 6 |
sunday, 9 august
No announcements for selected date