National Assembly of the Republic of Serbia / Activities / Activity details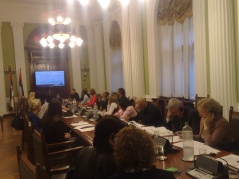 12 October 2011 Participants of the seminar on Strengthening the Legislative and Control Capacities of the National Assembly
Thursday, 13 October 2011
Seminar Held on Strengthening the National Assembly's Legislative and Control Capacities
Yesterday at the National Assembly House, representatives of the Parliamentary Institute of the National Council of the Slovak Republic held a seminar on Strengthening the Legislative and Control Capacities of the National Assembly for the employees of the Support Service of the National Assembly of the Republic of Serbia.
---
The seminar was held as part of the realisation of the Programme of the same name defined in the Memorandum of Cooperation between the National Assembly and the Westminster Foundation for Democracy, signed on 5 July 2011.
Lubomir Fajtak, Director of the Parliamentary Institute, and associates Martin Korcek and Katarina Kubisova briefed their National Assembly colleagues on the work of the National Council, the development of the Parliamentary Institute and its place and role in the work of the National Council, with a special focus on European affairs, activities the Parliamentary Institute is dedicated to, as well as its work methods and role in the legislative process. The seminar particularly focused on the Analysis, Education and Parliamentary Research Department which offers support to the National Council's legislative work by preparing analyses and information in cooperation with the legislature.
In the course of their visit to Belgrade, the representatives of the Slovak National Council's Parliamentary Institute also spoke to the National Assembly Secretary General and Deputy Secretary General, as well as their colleagues employed at the European Integration Department, Constitutional Issues Committee and Legislative Committee. They also shared experiences with their colleagues from the National Assembly's Research and Analysis Section on research methodology, as well as the organisation and method of work of the parliamentary library and archive.
The project Strengthening the Legislative and Control Capacities of the National Assembly aims to further the human resources and research capacities of the Support Service, as well as improve the National Assembly's legislative and control function. The project mainly focuses on defining procedure and guidelines for a more efficient human resource management in the Service, improvement of research and strengthening support to the MPs in the discharge of their duty.
---
---