National Assembly of the Republic of Serbia / Activities / Activity details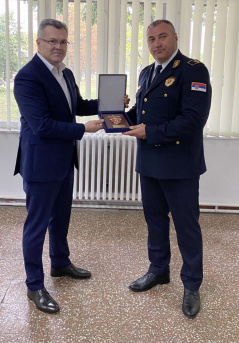 22 September 2021 Members of the Security Services Control Committee and Defence and Internal Affairs Committee visit the Gendarmerie Detachment in Novi Sad
Wednesday, 22 September 2021
Security Services Control Committee and Defence and Internal Affairs Committee Visit Gendarmerie
Members of the Security Services Control Committee and Defence and Internal Affairs Committee visited the Gendarmerie Detachment in Novi Sad.
---
Gendarmerie Commander General Dejan Lukovic presented to the members of the two committees the human and material resources at the Gendarmerie's disposal and briefed them on the functioning of the unit, as well as the results of its work so far and its technical equipment. In the presence of General Lukovic and Colonel Mico Kljajic, the commander of the Detachment, the members of the Gendarmerie performed a tactical demonstration exercise and presented the basic elements of the weapons and equipment at their disposal.
The members of the parliamentary committees had the opportunity to directly see the capacities of the Gendarmerie Detachment, tactical training and physical readiness of the members of the unit through the performance of tactical demonstration exercises. The MPs learned about the combat techniques, weapons and equipment the members of the unit use in their daily tasks and had the opportunity to talk to the members of the Gendarmerie to learn more about their readiness, training and ability to respond to all security challenges and threats.
The members of the two committees opined that the Gendarmerie is an important segment of the security sector that has in the previous period proved itself ready to respond to all tasks set before it. The current political situation in Serbia and the threats facing our citizens in Kosovo-Metohija make it clear that it is necessary to continue investing in the human and material resources of the security sector, which is an essential factor for the further development and progress of the state.
The Chairman of the Security Services Control Committee MA Igor Becic presented General Lukovic, on behalf of the Gendarmerie, with a plaque, stressing that the members of the Gendarmerie have on countless occasions demonstrated that they are ready to react quickly and efficiently to protect the safety of the citizens, regardless of the conditions and circumstances in which these tasks are to be performed.


Članovi oba odbora istakli su da Žandarmerija predstavlja važan segment sektora bezbednosti, te da je u prethodnom periodu pokazala spremnost da odgovori na sve zadatke koji se pred nju postave. Trenutna politička situacija u kojoj se Srbija nalazi i pretnje sa kojima se suočavaju naši građani na Kosovu i Metohiji pokazuje da je neophodno nastaviti sa ulaganjem u ljudske i materijalne kapacitete sektora bezbednosti koji predstavlja neophodan činilac daljeg razvoja i napretka države.
Ispred Žandarmerije generalu Lukoviću, predsednik Odbora za kontrolu službi bezbednosti mr Igor Bečić, uručio je plaketu Odbora i tom prilikom naglasio da su pripadnici Žandarmerije do sada nebrojeno puta pokazali da su u svakom trenutku spremni da brzo i efikasno reaguju u zaštiti bezbednosti građana, bez obzira na uslove i okolnosti u kojima izvršavaju svoje zadatke.
---
---
| M | T | W | T | F | S | S |
| --- | --- | --- | --- | --- | --- | --- |
| 27 | 28 | 29 | 30 | 1 | 2 | 3 |
| 4 | 5 | 6 | 7 | 8 | 9 | 10 |
| 11 | 12 | 13 | 14 | 15 | 16 | 17 |
| 18 | 19 | 20 | 21 | 22 | 23 | 24 |
| 25 | 26 | 27 | 28 | 29 | 30 | 31 |
friday, 1 july
No announcements for selected date