National Assembly of the Republic of Serbia / Activities / Activity details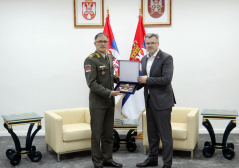 26 December 2019 The Chairman of the Security Services Control Committee MA Igor Becic and the Head of the Serbian Armed Forces General Staff General Milan Mojsilovic
Thursday, 26 December 2019
Security Services Control Committee Chairman Presents Head of Serbian Armed Forces General Staff with Committee Plaque
The Chairman of the Security Services Control Committee MA Igor Becic presented the Head of the Serbian Armed Forces General Staff General Milan Mojsilovic with a Committee Plaque for his contributions and strengthening of the capacities of the sector of security and civil control of the security services. The same plaque was awarded to the Deputy Head of the Serbian Armed Forces General Staff Major General Petar Cvetkovic.
---
The plaque is awarded to individuals and institutions that contributed to the improvement to the security sector and building of its capacities in terms of military resources and better living standards for the members of the system.
Becic and Mojsilovic stressed that, in the previous period, considerable funds were earmarked for the procurement of armament and military equipment to advance the operative and functional capabilities of the Serbian Armed Forces. In the upcoming period, the Serbian Armed Forces will undergo additional equipment to continue to strengthen its defence capabilities and fully realize its pre-defined missions and tasks. Considerable funds are invested into the education and continuous training of the members of the Serbian Armed Forces and at the same time the state is working improving their living standards which helps keep quality staff in service.
---
---
monday, 16 may
No announcements for selected date