National Assembly of the Republic of Serbia / Activities / Activity details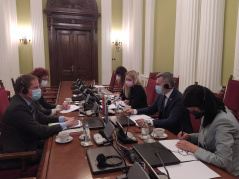 14 April 2021 The Chairman of the Security Services Control Committee MA Igor Becic and the Head of the Political Section of the EU Delegation to Serbia Dirk Lorenz
Wednesday, 14 April 2021
Security Services Control Committee Chairman Meets with Head of EU Delegation to Serbia Political Section
The Chairman of the Security Services Control Committee MA Igor Becic met today in the National Assembly with the Head of the Political Section of the EU Delegation to Serbia Dirk Lorenz, in preparation of the European Commission's Annual Progress Report on Serbia for 2020.
---
MA Igor Becic briefed Dirk Lorenz on the competencies and mode of operation of the Security Services Control Committee, highlighting its importance for the civilian control of the security sector. Becic said that the Committee reviews the security services' regular reports, conducts supervisory visits, as well as reacts to civic petitions relating to security and media reports on burning public issues.
Igor Becic also mentioned what he termed the Committee's good practice to adopt the Decision on the manner of holding the Security Services Control Committee sittings handling classified information and the Decision on direct supervision over the work of the security services at the beginning of the new legislature. These facilitate the Committee's work to a great extent, as well as enable the security services to submit reports and answer the MPs' questions without reservation, Becic pointed out.
In the course of the meeting, the Chairman of the Security Services Control Committee said that in each supervisory visit initiated by the Committee, he had open cooperation with all the directors of the services, as well as with field operatives. Also, all the Military Security Agency, Military Intelligence Agency and Security Information Agency documents the MPs want to see, are always available, said Becic.
In the supervisory visits to the security services conducted in the previous period, the Committee noted no irregularities or illegal implementation of measures, Becic went on to add.
He then focused on the previous period marked by the coronavirus pandemic, stating that it slowed down the Committee's usual pace of work and activities as regards supervisory visits, but added that the successful immunisation process creates the conditions needed for the Committee to make up for lost time.
---
---
friday, 1 july
11.00 - the National Assembly Speaker addresses the conference on the Position of Serbia's in the Euro-Atlantic Community (National Assembly Building, 14 Kralja Milana Street, Grand Hall)