National Assembly of the Republic of Serbia / Activities / Activity details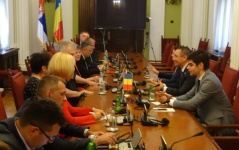 23 June 2017 The Chairman of the Romanian Chamber of Deputies' Committee on European Affairs in meeting with the members of the European Integration Committee
Friday, 23 June 2017
Romania to Speed Up Serbia's European Integration Process During its EU Council Presidency
During its presidency of the EU Council, Romania would work on speeding up Serbia's European integration process and Serbia should also use the presidency of its two neighbours, Bulgaria and Austria, to further its cause, said the Chairman of the Romanian Chamber of Deputies' Committee on European Affairs Victor Ponta to his colleagues of the National Assembly's European Integration Committee.
---
"It is in Romania's interest to see Serbia speed along the European path, especially during its three neighbours' presidency of the EU Council, because despite the many challenges EU is facing it would not forget Serbia and its accession", said Ponta adding that bilateral relationships should be used to make sure the topic makes its way onto the EU agenda.
Ponta restated that Romania had not recognized the self-proclaimed independence of Kosovo-Metohija adding that his country could take a more dynamic role and offer concrete help to Serbia to find solutions in the dialogue with Pristina.
European Integration Committee Chairman Nenad Canak said that there are few outstanding issues between Serbia and Romania. He stressed that the National Assembly and the European Integration Committee in particular, are doing all in their power to make sure the European integration process progresses unimpeded.
National Assembly Deputy Speaker and European Integration Committee member Gordana Comic presented the course of Serbia's EU accession process in brief and asked for Romania's help concerning Chapter 23 where its experience would prove invaluable. She commended the announcement that Romania would, during its presidency of the EU Council, move enlargement higher up on the list of EU priorities.
Committee Deputy Chairperson Elvira Kovacs said that Serbia feels that the issue of its national minorities is blocking the integration process, restating that the country has a special action plan for the field. She reminded the guest that the relationship between the Vlach and Romanian national minority and the Romanian and Serbian church are bilateral issues which should be handled as such.
"We have opened 10 negotiation chapters but we believe we could handle more, especially during our neighbours' upcoming EU Council presidencies", said Kovacs.
The meeting, also attended by Committee members Vesna Markovic, Aleksandar Stevanovic, Dr Muamer Bacevac, Haji Milorad Stosic, Zvonimir Djokic and substitute member Vladimir Djuric, also touched on the status of minority rights in Serbia, financial support for the enlargement process after 2021, regional cooperation in the Western Balkans, and Romania's experiences of the EU accession process.
---
---
tuesday, 29 november
11.00 - sitting of the Committee on Finance, State Budget and Control of Public Spending (National Assembly House, 13 Nikola Pasic Square, hall 2)

11.00 - video meeting of the members of the National Assembly Foreign Affairs Committee and the Ukrainian Verkhovna Rada (National Assembly House, 13 Nikola Pasic Square, hall 4)

12.00 - press conference of MP MA Ivan Kostic (National Assembly House, 13 Nikola Pasic Square, Central Hall)

12.30 - the National Assembly Speaker meets with Cypriot Minister of Defence (National Assembly House, 13 Nikola Pasic Square, hall 1)