National Assembly of the Republic of Serbia / Activities / Activity details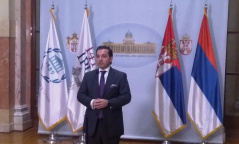 23 December 2019 National Assembly Deputy Speaker Prof. Dr Vladimir Marinkovic at the celebration of the successful realization of the 141st Assembly
Monday, 23 December 2019
Realization of 141st IPU Assembly Celebrated, Volunteers Receive Letters of Gratitude
The National Assembly hosted a celebration of the successful realization of the 141st Assembly of the Inter-Parliamentary Union, where the active participants in the event were presented with letters of gratitude for their selfless efforts.
---
The attending were greeted by National Assembly Deputy Speaker Prof. Dr Vladimir Marinkovic who thanked the volunteers from state and educational institutions on behalf of the Assembly Speaker and the 250 MPs for helping in the successful realization of the 141st IPU Assembly.
"In those few days, Serbia was the centre of the world, host to over 2000 delegates from more than 150 countries. The Belgrade Declaration was adopted and Serbia took its rightful place both at the regional and global level", said the Deputy Speaker.
Marinkovic also thanked the Serbian Government and city administration for the logistic support that helped in the successful realization of the 141st IPU Assembly.
"I would especially like to thank the Presidency of the Republic of Serbia and President Aleksandar Vucic, patron of the IPU Assembly without whose assistance we would not have been able to realize this event of such importance for our country", Marinkovic concluded.


---
---
monday, 16 may
No announcements for selected date