National Assembly of the Republic of Serbia / Activities / Activity details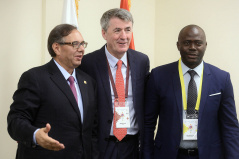 15 October 2019 MP Prof. Dr Zarko Obradovic with the representatives of the Pan-African Parliament Bouras Djamel and Kone Aboubacar Sidiki
Tuesday, 15 October 2019
Prof. Dr Zarko Obradovic Meets with Pan-African Parliament Vice-President
Prof. Dr Zarko Obradovic, member of the National Assembly delegation to IPU and Chairman of the Foreign Affairs Committee, received, on behalf of National Assembly Speaker Maja Gojkovic, the Vice-President of the Pan-African Parliament (PAP) Bouras Djamel and PAP member and Chairperson of the Committee on Cooperation, International Relations and Conflict Resolutions Kone Aboubacar Sidiki.
---
Obradovic praised the delegation of the Pan-African Parliament for participating in the 141st IPU Assembly in Belgrade.
The officials discussed the advancement of cooperation between the National Assembly and the Pan-African Parliament based on the Memorandum of Cooperation signed in 2017.


---
Photo gallery
---
---
sunday, 26 june
No announcements for selected date