National Assembly of the Republic of Serbia / Activities / Activity details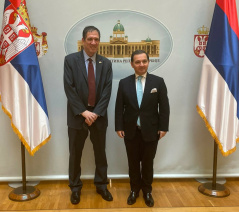 19 March 2021 Head of the PFG with Israel Prof. Dr Vladimir Markovic with the Ambassador of the State of Israel to Serbia H.E. Yahel Vilan
Friday, 19 March 2021
Prof. Dr Vladimir Marinkovic and Israeli Ambassador Discuss Importance of Improving Economic Cooperation and Supporting Mass Immunization
The Head of the Parliamentary Group of Friendship with Israel Prof. Dr Vladimir Markovic met today, at the National Assembly House, with the Ambassador of the State of Israel to Serbia H.E. Yahel Vilan.
---
The officials agreed that it is necessary to strengthen the cooperation between the two countries, especially in the field of economy and investments and Marinkovic pointed out that Israeli companies should be motivated to invest in Serbia. He also stressed that many countries face the challenge of how to continue economic development in the new circumstances caused by the pandemic and that the exchange of experiences can be valuable for both countries.
Speaking about the course of the fight against the pandemic, Ambassador Vilan emphasized the importance and the positive results of vaccination in Israel. He said that it is necessary to additionally motivate young people to get vaccinated, because the practice has shown that the British strain of the virus has been increasingly affecting that part of the population. Marinkovic agreed that it is necessary to encourage citizens to get immunized, regardless of Serbia being the second most vaccinated country in Europe, and suggested organizing a meeting with the highest relevant members of the state leadership of Israel and Serbia, and have them send a strong message about the importance of vaccination.
---
---
friday, 19 august
11.00 - press conference of MPs Prf Dr Tamara Milenkovic Kerkovic and Radmila Vasic (National Assembly House, 13 Nikola Pasic Square, Central Hall)