National Assembly of the Republic of Serbia / Activities / Activity details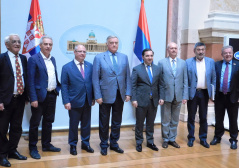 23 April 2018 The MPs and the Russian delegation
Monday, 23 April 2018
Prof. Dr Vladimir Marinkovic Meets with Russian Delegation
A group of MPs headed by National Assembly Deputy Speaker Prof. Dr Vladimir Marinkovic met with a delegation of the Russian State Duma to discuss interparliamentary cooperation and support for Serbia's efforts to preserve its cultural and historic monuments in Kosovo-Metohija through the Foundation of St. Andrew the First-Called.
---
Prof. Dr Vladimir Marinkovic said that the two countries' excellent bilateral relations are evidenced by the visits of their respective highest dignitaries, presidents of the country, MPs and officials. He took the opportunity to thank Russia on the behalf of the National Assembly Speaker and himself for not recognizing Kosovo-Metohija as an independent state and its principled stance during Kosovo-Metohija's UNESCO bid. Marinkovic also said that the 128 strong Parliamentary Friendship Group with Russia is the biggest in the National Assembly. He stressed that Serbia will never impose sanctions on Russia and thanked the country for the ample donations for the construction of the Church of St.Sava in Belgrade, an act which speaks volumes of the two countries' firm friendship. He also thanked Russia for its support of Serbia's path to full EU membership, which is one of the country's chief foreign policy goals.

Vladimir Ivanovich Yakunin, Chairman of the Committee of Trustees of the Foundation of St. Andrew the First-Called, said that the centuries-long friendship and the feeling of respect and brotherly love between the two nations has to be cultivated and shared with the younger generations. Yakunin spoke about the successful business dealings with the Republic of Serbia in the past 20 years, adding that history must not be forgotten, especially not the Orthodox heritage in Kosovo-Metohija and the victims who died protecting it.

The officials agreed that the traditional friendship, cultural, historical, linguistic, religious and Slavic closeness should be bolstered by economic cooperation, as well as cooperation in the fields of foreign trade, defence, internal affairs, education, science, technology, sports and the media.

MPs Dragomir Karic, Milovan Drecun and Prof. Dr Ljubisa Stojmirovic who took part in the meeting stressed that Russia's support of Serbia is extremely important as evidenced through history on many an occasion and Russia can consider Serbia a trusted partner.

The Russian delegation also comprised Sergey Anatolyevich Gavrilov, Chairman of the State Duma Committee for Development of Civil Society and the Issues of Public and Religious Associations, Aleksandr Mikhailovich Babakov, Deputy Chairman of the Russian Federation Council Foreign Affairs Committee, Vladimir Viktorovich Bushuyev Director of the Foundation of St. Andrew the First-Called, and Anna Nikolaevna Safronova, Strategic Development Manager of the Foundation of St. Andrew the First-Called.


---
---
thursday, 24 september
No announcements for selected date