National Assembly of the Republic of Serbia / Activities / Activity details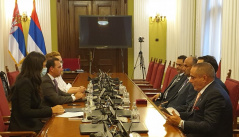 7 September 2020 Prof. Dr Vladimir Marinkovic Meets with President of Global Council for Tolerance and Peace
Monday, 7 September 2020
Prof. Dr Vladimir Marinkovic Meets with President of Global Council for Tolerance and Peace
Today at the National Assembly House, MP Prof. Dr Vladimir Marinkovic received a delegation of the Global Council for Tolerance and Peace (GCTP), headed by its President, Ahmed bin Mohammed Al Jarwan, which came to Serbia with the mission of persuading our country to join the organization. The Global Council for Tolerance and Peace is an international organization dedicated to spreading the principles of peace and tolerance in the world, fighting discrimination, racism, religious and ethnic extremism.
---
Marinkovic welcomed the delegation and informed it about the recent parliamentary and local elections in Serbia, adding that the National Assembly is currently in the process of establishing its working bodies and in preparations for the election of the Government. The professor thanked the guests for the invitation to join their eminent organization. He added that Serbia's ties with the United Arab Emirates are at a very high level which, he assured the guests, would continue to spread and deepen.
The GCTP President said that Serbia has been recognized as a friendly country, sharing the values championed by their organization. He thanked Serbia for supporting and spreading tolerance, peace, stability and exchange of ideas which are the basic tenets of the Global Council for Tolerance and Peace. The organization boasts members from 75 countries around the world with a growth tendency to exceed 100 by the end of the year. The President said that the organization's global coverage rests on two pillars, the first functioning at the diplomatic level, while the second, the secretariat general, covers NGOs, universities and individuals governed by the Council's postulates. The organization has so far had four global sessions, with the hope of having one in Serbia in the near future. The President also said that the members support, assist and learn from one another and exchange experiences.
The 141st Assembly of the Inter-Parliamentary Union held last year in Serbia was one of the topics of the meeting, as well as the countries' agreements with the State of Israel and the development of economic, cultural and scientific cooperation.
The meeting was attended by the Ambassador of the United Arab Emirates H.E. Mubarak Saeed Al Dhaheri and organization members Dr Zoran Ilievski and Jovan Kovacic.


---
---
monday, 15 august
11.00 - press conference of MP MA Ivan Kostic (National Assembly House, 13 Nikola Pasic Square, Central Hall)