National Assembly of the Republic of Serbia / Activities / Activity details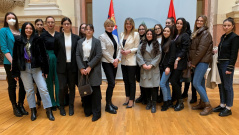 31 January 2022 The MPs with the students of the Faculty of Political Sciences
Monday, 31 January 2022
Political Sciences Students Visit National Assembly
Students of the Faculty of Political Sciences visited the National Assembly and talked with MPs Natasa Mihailovic Vacic and Dijana Radovic.
---
The MPs briefed the guests on the legislative procedure and work of the parliamentary committees, and talked about the participation of young people and participation of women in political life.

The students were especially interested in promoting pluralism, functioning of political parties in the National Assembly and the MPs within the parliamentary groups, as well as the ways in which the citizens can communicate directly with their representatives in the Parliament.

MP Natasa Mihailovic Vacic concluded the visit with a message to the guests that the future is in their hands, more than it ever was in any generation of women before them, which carries the responsibility to bring independence and their full potential into life and work, to push boundaries and preserve the acquired rights, as well as improve the situation for future generations of women.


---
Photo gallery
---
---
friday, 1 july
11.00 - the National Assembly Speaker addresses the conference on the Position of Serbia's in the Euro-Atlantic Community (National Assembly Building, 14 Kralja Milana Street, Grand Hall)