National Assembly of the Republic of Serbia / Activities / Activity details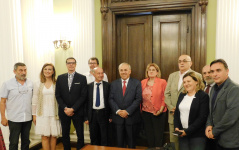 24 July 2019 The members of the Parliamentary Friendship Group with Albania and the Albanian Ambassador to Serbia
Wednesday, 24 July 2019
Peace and Cooperation in Both Serbia and Albania's Interest
The Parliamentary Friendship Group with Albania, headed by Fatmir Hasani, met today with the Albanian Ambassador to Serbia H.E. Ilir Boçka
---
Fatmir Hasani praised the Ambassador's idea to meet with the 25-strong Parliamentary Friendship Group and discuss deepening cooperation in general, and education, trade, culture and tourism in particular. Hasani said that good-neighbourly relations between the Balkan countries are the key to Serbia and Albania's EU accession and the flow of people and goods is a good indicator that the two countries can cooperate. It is in both countries' interest to further cooperation, he said, adding that dialogues could resolve many of the region's outstanding issues. Parliamentary cooperation can also help ease the relations between Belgrade and Pristina as one of the most crucial European questions, said Hasani.
H.E. Ilir Boçka said that maintaining communication channels is vital in the diplomatic profession as they are the engine of cooperation. He praised the establishment of the Parliamentary Friendship Group with Albania in the National Assembly of the Republic of Serbia as that gives a new dimension and weight to the relationship between the two countries. Adding that the Albanian Parliament already has a friendship group with Serbia, he opined that it is the parliaments' and their friendship groups' task to spread the message of peace and stability of the region. The Ambassador said he is ready to expand cooperation and informed the PFG members of the official letter the Albanian Parliament Speaker sent to Maja Gojkovic to thank for the establishment of the Parliamentary Friendship Group as the advent of deeper cooperation.
The meeting was attended by National Assembly Deputy Speaker Gordana Comic who said that she had visited Albania on many occasions in the last two decades and had the good fortune to witness its prosperity. The key to resolve many of the region's problems is to emphasize its countries' similarities instead of differences. Serbia and Albania share similar problems in terms of development of democracy and institutions, Comic said and wished Albania successful chairmanship of OSCE.
PFG members Tomislav Zigmanov, Olena Papuga, Dubravka Filipovski, Dragan Jovanovic, Desanka Repac, Doc. Dr Mihailo Jokic, Dr Predrag Jelenkovic, Doc. Dr Ivan Bauer, Prof. Dr Ljubisa Stojmirovic and Marijan Risticevic also had the opportunity to speak with the Ambassador.
Noting that, historically, the two peoples had fought against fascism, the officials opined that good ties are essential for the two countries' future relations. The economic cooperation between Serbia and Albania has been on the rise and only last year 60,000 Serbian tourists visited Albania.


---
---
monday, 16 may
No announcements for selected date