National Assembly of the Republic of Serbia / Activities / Activity details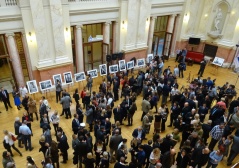 7 November 2016 Opening of Parliamentary Week
Monday, 7 November 2016
Parliamentary Week Opened
The second Parliamentary Week (Week of Parliamentarism), with the slogan "You Have the Floor", was officially opened today at the National Assembly House.
---
Parliamentary Week is organised by the National Assembly of the Republic of Serbia and Open Parliament in cooperation with 60 partner organisations and institutions.

During Parliamentary Week, 7-13 November 2016, more than a hundred events and activities focusing on parliamentary democracy and civic participation in democratic processes will be organised throughout Serbia.

Vukosava Crnjanski, Director of the Center for Research, Transparency and Accountability and representative of the Open Parliament initiative, said that the objective of Parliamentary Week is to enhance the citizens' interest in politics and democracy and encourage public engagement. "In the course of this week's different events, all who wish to take part in the debate on topics important for them and show responsibility and readiness to create a country in which they would like to live will be given a say", said Crnjanski.

During the opening ceremony, US Ambassador Kyle Scott emphasised the importance of transparency of democratic institutions. Through its roundtables and interactive discussions, Parliamentary Week will provide the citizens with the opportunity to engage in direct conversation with their representatives. "As Serbia progresses toward European integration, this type of civil participation will gain in significance e, because Serbian citizens need to be included in the important and complex laws passed by the Assembly", stressed Scot.

UK Ambassador Denis Keefe said that Parliamentary Week is an opportunity for all the institutions to build their public reputation and credibility through transparency. "This programme is an opportunity for all of us to find the answer to one question: why are the parliament and democracy important to me, my family, my local community, the things I'm engaged in and that interest me", stressed Keefe.

National Assembly Deputy Speaker Prof. Dr Vladimir Marinkovic was very pleased that the Parliament can carry out an event such as Parliamentary Week. "This event is proof that the National Assembly has excellent capacities to cooperate with civil society, and sends a message to the citizens that they have a say and that the National Assembly House is always open to all the citizens", said Marinkovic.

National Assembly Speaker Maja Gojkovic opened photo exhibition "Recess" by Sasa Radovic, containing photos of schools with only one or two students, of which there are more than a hundred in Serbia. The Speaker said that the exhibition aims to draw attention to the vital issue of children growing up in Serbian villages.

"On the behalf of the National Assembly and the Committee on the Rights of the Child I want to remind you all that caring for children means caring for our future. The quality of elementary education depends on the working conditions in schools, which is why the Serbian Government's decision to start rehabilitating 100 schools throughout Serbia is very important. That is why it is important that we do our best for them, that each of us select one school and help it survive, and prevent Serbian villages from dying out. Several years ago I selected a school in a village near Cacak. I am sure that there is no better way to begin Parliamentary Week than by opening this exhibition and launching the big topic facing us", said Gojkovic.

Parliamentary Week is organised with the support of the United States Agency for International Development (USAID), UK Embassy in Belgrade, United Nations Development Program (UNDP) and the Swiss Agency for Development and Cooperation.


---
---
| M | T | W | T | F | S | S |
| --- | --- | --- | --- | --- | --- | --- |
| 27 | 28 | 29 | 30 | 31 | 1 | 2 |
| 3 | 4 | 5 | 6 | 7 | 8 | 9 |
| 10 | 11 | 12 | 13 | 14 | 15 | 16 |
| 17 | 18 | 19 | 20 | 21 | 22 | 23 |
| 24 | 25 | 26 | 27 | 28 | 29 | 30 |
| 31 | 1 | 2 | 3 | 4 | 5 | 6 |
friday, 7 august
No announcements for selected date