National Assembly of the Republic of Serbia / Activities / Activity details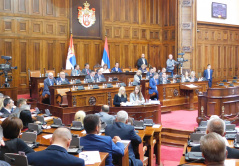 27 September 2018 Parliamentary Questions in September
Thursday, 27 September 2018
Parliamentary Questions in September
On 27 September, in line with article 205, paragraph 1, of the National Assembly Rules of Procedure, the MPs posed questions to the Government of the Republic of Serbia, between 4 and 7 pm.
---
MPs Prof. Dr Jahja Fehratovic, Ljupka Mihajlovska, Fatmir Hasani, Miroslav Aleksic, Marijan Risticevic and Marinika Tepic had questions for the members of the Government of the Republic of Serbia.

Government representatives Deputy Prime Minister and Minister of the Interior Dr Nebojsa Stefanovic, Minister of Labour, Employment, Veteran and Social Affairs Zoran Djordjevic, Minister of Justice Nela Kuburovic, Minister without portfolio responsible for demography and population policy Prof. Dr Slavica Djukic Dejanovic, Minister for European Integration Jadranka Joksimovic, Minister of Culture and the Media Vladan Vukosavljevic, Minister of Health Dr Zlatibor Loncar, Minister of Education, Science and Technological Development Mladen Sarcevic, Minister of Defence Aleksandar Vulin, Minister of Mining and Energy Aleksandar Antic, Minister of Public Administration and Local Self-Government Branko Ruzic and Minister of Environmental Protection Goran Trivan responded to the MPs' questions.


---
---
monday, 27 june
No announcements for selected date