National Assembly of the Republic of Serbia / Activities / Activity details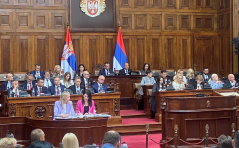 25 May 2023 Parliamentary Questions in May
Thursday, 25 May 2023
Parliamentary Questions in May
On 25 May 2023, in line with article 205, paragraph 1, of the National Assembly Rules of Procedure, the MPs posed questions to the Government of the Republic of Serbia, between 4 and 7 pm.
---
MPs Dejan Bulatovic, Milija Miletic, Radomir Lazovic, Zsombor Ujvari, Ilo Mihajlovski and Bosko Obradovic had questions for the members of the Government of the Republic of Serbia.
Government representatives Prime Minister Ana Brnabic, Deputy Prime Minister and Minister of Defence Milos Vucevic, Minister of Finance Sinisa Mali, Minister of Environmental Protection Irena Vujovic, Minister of Agriculture, Forestry and Water Management Jelena Tanaskovic, Minister of Justice Maja Popovic, Minister of Domestic and Foreign Trade Tomislav Momirovic, Minister of European Integration Prof. Dr Tanja Miscevic, Minister of Health, Prof. Dr Danica Grujicic, Minister of Science, Technological Development and Innovation Jelena Begovic, Minister for Public Investment Marko Blagojevic, Minister of Construction, Transport and Infrastructure Goran Vesic, Minister of State Administration and Local Self-Government Dr Aleksandar Martinovic, Minister without portfolio in charge of improving the development of underdeveloped municipalities Novica Toncev, Minister without portfolio in charge of coordination of activities and measures in the area of relations of the Republic of Serbia with the Diaspora Djordje Milicevic, Minister of Information and Telecommunications Mihjlo Jovanovic, Minister of Sport Zoran Gajic, Minister for Human and Minority Rights and Social Dialogue Tomislav Zigmanov and Minister of Mining and Energy Dubravka Djedovic responded to the MPs' questions.
---
---
monday, 2 october
10.40 - the National Assembly Speaker's address at the event "Joy of Europe" (National Assembly House, 13 Nikola Pasic Square, Central Hall)

12.00 - continuation of the sitting of the Committee on the Economy, Regional Development, Trade, Tourism and Energy (National Assembly House, 13 Nikola Pasic Square, hall 2)

14.15 - the National Assembly Speaker meets with a delegation of rapporteurs of the Parliamentary Assembly of the Council of Europe Monitoring Committee (National Assembly House, 13 Nikola Pasic Square, hall 1)

16.00 - the heads of the parliamentary groups meet with the delegation of rapporteurs of the Parliamentary Assembly of the Council of Europe Monitoring Committee (National Assembly Building, 14 Kralja Milana Street, Blue Salon)

17.45 - the members of the Committee on Constitutional and Legislative Issues meet with the delegation of rapporteurs of the Parliamentary Assembly of the Council of Europe Monitoring Committee (National Assembly Building, 14 Kralja Milana Street, Blue Salon)