National Assembly of the Republic of Serbia / Activities / Activity details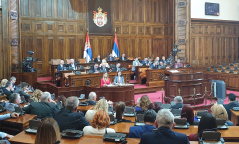 28 March 2019 Parliamentary Questions in March
Thursday, 28 March 2019
Parliamentary Questions in March
On 28 March 2019, in line with article 205, paragraph 1, of the National Assembly Rules of Procedure, the MPs posed questions to the Government of the Republic of Serbia, between 4 and 7 pm.
---
MPs Dr Muamer Zukorlic, Marijan Risticevic, Petar Petrovic, Grozdana Banac and Prof. Dr Vladimir Marinkovic had questions for the members of the Government of the Republic of Serbia.

Government representatives Prime Minister Ana Brnabic, Deputy Prime Minister and Minister of the Interior Dr Nebojsa Stefanovic, Deputy Prime Minister and Minister of Construction, Transport and Infrastructure Zorana Mihajlovic, Minister of Finance Sinisa Mali, Minister of Agriculture, Forestry and Water Management Branislav Nedimovic, Minister of Environmental Protection Goran Trivan, Minister of Mining and Energy Aleksandar Antic, Minister of Public Administration and Local Self-Government Branko Ruzic, Minister of Defence Aleksandar Vulin, Minister of Education, Science and Technological Development Mladen Sarcevic, Minister of Health Zlatibor Loncar, Minister of Labour, Employment, Veteran and Social Affairs Zoran Djordjevic, Minister of Culture and the Media Vladan Vukosavljevic and minister without portfolio responsible for innovation and technological development Nenad Popovic responded to the MPs' questions.


---
---
tuesday, 2 june
11.30 - press conference of MP Prof. Dr Miladin Sevarlic (National Assembly House, 13 Nikola Pasic Square, Central Hall)

12.00 - press conference of MP Marinika Tepic (National Assembly House, 13 Nikola Pasic Square, Central Hall)

13.00 - press conference of MPs Sasa Radulovic, Branka Stamenkovic and Vojin Biljic (National Assembly House, 13 Nikola Pasic Square, Central Hall)

14.00 - press conference of MP Dr Nada Kostic (National Assembly House, 13 Nikola Pasic Square, Central Hall)