National Assembly of the Republic of Serbia / Activities / Activity details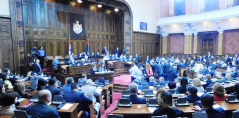 29 March 2018 Parliamentary Questions in March
Thursday, 29 March 2018
Parliamentary Questions in March
On 29 March 2018, in line with article 205, paragraph 1, of the National Assembly Rules of Procedure, the MPs posed questions to the Government of the Republic of Serbia, between 4 and 7 pm.
---
MPs Muamer Zukorlic, Zoran Zivkovic, Bojan Torbica, Elvira Kovacs, Djordje Vukadinovic, Marko Djurisic, Dragan Markovic and Olena Papuga had questions for the members of the Government of the Republic of Serbia.

Prime Minister of the Republic of Serbia Ana Brnabic, Deputy Prime Minister and Minister of Construction, Transport and Infrastructure Prof. Dr Zorana Mihajlovic, Minister for European Integration Jadranka Joksimovic, Minister of Agriculture, Forestry and Water Management Branislav Nedimovic, Minister of Environmental Protection Goran Trivan, Minister of Culture and the Media Vladan Vukosavljevic, Minister of Mining and Energy Aleksandar Antic, Minister of Labour, Employment, Veteran and Social Affairs Zoran Djordjevic, Minister of Health Dr Zlatibor Loncar, Minister of Youth and Sport Vanja Udovicic, Minister of Education, Science and Technological Development Mladen Sarcevic, Minister without portfolio responsible for demography and population policy Prof. Dr Slavica Djukic Dejanovic, and Minister without portfolio responsible for regional development and coordination of the work of public companies Milan Krkobabic responded to the MPs' questions.


---
---
monday, 27 june
No announcements for selected date