National Assembly of the Republic of Serbia / Activities / Activity details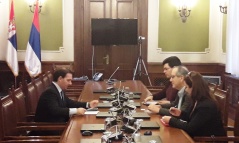 14 March 2017 National Assembly Deputy Speaker Prof. Dr Vladimir Marinkovic and the Social Impact team
Tuesday, 14 March 2017
Parliament Actively Combats Corruption
National Assembly Deputy Speaker Prof. Dr Vladimir Marinkovic met today at the National Assembly House with a team of the independent consulting house Social Impact, recruited by USAID Serbia, to discuss how best to coordinate anti-corruption efforts.
---
Marinkovic stressed that, in addition to economic reform, the Serbian Government's priorities are public administration reform, combating corruption and organized crime, and establishing the rule of law. He stressed that Euro-integration is Serbia's strategic goal and informed the guests that Serbia has so far opened eight negotiating chapters, among them Chapter 23 which deals with anti-corruption. He said that the Serbian Government is pursuing a zero tolerance policy toward corruption which in itself necessitates public administration reform, mainly downsizing the bureaucratic machinery and with it the chances of corruption. He added that establishing an efficient legislative framework, a work currently in progress, as well as communication and cooperation with civil society organizations are extremely important to the state. Marinkovic listed, as best practice examples, the adoption of the Law on Inspection Control which defines the scope of surveillance for inspectors across all levels thus significantly limiting potential corruption opportunities. He also mentioned the adoption of the Law on Planning and Construction whose one-window service had simplified the documentation gathering process and its reduction of the building permit issuance period to 28 days. This has significantly solved the problem of corruption in local self-governments and public companies.

Marinkovic mentioned that Serbia had set up a national branch of the Global Organization of Parliamentarians Against Corruption (GOPAC) in 2013, which enables parliamentarians to supervise the executive at all levels through a series of activities such as roundtables, working meetings and public hearings, and take active part in the fight against corruption.

The representatives of Social Impact said that USAID's chief goal is to help developing countries set up efficient anti-corruption mechanisms, to which end, they stressed, they stand at the disposal of the Parliament, as well as local self-governments and administration.

Marinkovic thanked the guests stressing that National Assembly considers its cooperation with USAD very important both for the reform processes in Serbia and the improvement of overall relations between Serbia and the USA.


---
---
| M | T | W | T | F | S | S |
| --- | --- | --- | --- | --- | --- | --- |
| 27 | 28 | 29 | 30 | 31 | 1 | 2 |
| 3 | 4 | 5 | 6 | 7 | 8 | 9 |
| 10 | 11 | 12 | 13 | 14 | 15 | 16 |
| 17 | 18 | 19 | 20 | 21 | 22 | 23 |
| 24 | 25 | 26 | 27 | 28 | 29 | 30 |
| 31 | 1 | 2 | 3 | 4 | 5 | 6 |
saturday, 15 august
No announcements for selected date