National Assembly of the Republic of Serbia / Activities / Activity details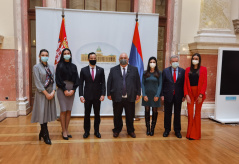 16 December 2020 The Members of the Parliamentary Friendship Group with Venezuela with the Ambassador of the Bolivarian Republic of Venezuela to Serbia
Wednesday, 16 December 2020
PFG with Venezuela Meets with Venezuelan Ambassador to Serbia
The members of the Parliamentary Friendship Group with Venezuela, headed by Djordje Komlenski met today in the National Assembly House with the Ambassador of the Bolivarian Republic of Venezuela, H.E. Dimas Jesús Alvarenga Guerra.
---
At the beginning of the meeting, Djordje Komlenski greeted the Venezuelan Ambassador on behalf of the members of the parliamentary group and his own behalf, and informed him that the new National Assembly legislature has already set up a Parliamentary Friendship Group with Venezuela, boasting 22 members. Komlenski was interested in the current situation in Venezuela, considering that the country held parliamentary elections on 6 December this year.
H.E. Dimas Jesús Alvarenga Guerra briefed the members and Head of the PFG with Venezuela on the current situation in his country, as well as the recent parliamentary elections. He said that the will of the people of Venezuela won the elections and that the democratic and legal elections would contribute to the economic recovery of Venezuela by constituting the parliament and passing new legislation.
Djordje Komlenski took the opportunity to congratulate the people of Venezuela on the excellently conducted elections, on the clean, fair and brilliant victory of the United Socialist Party of Venezuela and its coalition partners.
The officials agreed that the two nations have a long-standing friendship based on respect for the same principles, respect for international law and respect for the territorial integrity and sovereignty of states.
The meeting was attended by PFG members Ana Karadzic, Sandra Jokovic, Marijana Krajnovic, Ana Beloica, Dragomir Karic and Prof. Dr Ljubisa Stojmirovic.
---
---
thursday, 11 august
No announcements for selected date