National Assembly of the Republic of Serbia / Activities / Activity details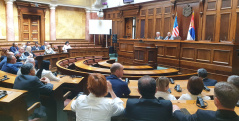 4 September 2019 The members of the PFG with the US headed by Dragan Sormaz in meeting with US Ambassador to Serbia H.E. Kyle Scott
Wednesday, 4 September 2019
PFG with US and US Ambassador to Serbia Talk Strengthening Cooperation and Potential US Investment
The Head of the PFG with the US Dragan Sormaz welcomed US Ambassador to Serbia H.E. Kyle Scott briefing him on the PFG's coming activities.
---
Ambassador Scott said that the US is ready and willing to cooperate with Serbia which it sees as the leader of the region and supports on the path to the EU. The Ambassador spoke about the two countries shared history, stressing that Serbia and the US were allies in both world wars.
Ambassador Scott said that Serbia is a good partner for US investment which has so far amounted to about four million dollars that created jobs for more than 20,000 mostly highly skilled employees. Speaking of economic assistance, Scott said that the US had in the past two decades donated more than a billion US dollars to Serbia.
He also praised Serbia's economic reform resulting in GDP growth, controlled inflation and reduced unemployment rate. The Ambassador said that Serbs are a proud people who love their country, adding that he valued Serbia's support in tackling the migrant crisis.
Ambassador Scott said that Serbia has excellent students whose level of knowledge after graduation is above average compared to their peers from many other countries.
MPs Milimir Vujadinovic, Prim. Dr Branimir Rancic, Miroslav Aleksic, Prof. Dr Zoran Dragisic, Natasa Vuckovic and Dusica Stojkovic also took part in the meeting. They opined that US companies should continue to invest into the Serbian economy and that relations in the spheres of economy, healthcare, culture and education should be improved, as should the relationship with the media.
The Ambassador opined that the media need to present news concerning the relationship between the US and Serbia better, hoping that the practice would improve, because the public needs to be informed about the way the two countries cooperate, evidenced in the fact that US investment into Serbia is on the rise.
The Head of the PFG with the US said that Serbia belongs to the European community, reminding the guest of the fact that through history Serbia and the US had often been allies. Serbia is full of educated people, in fact it ranks fourth in Europe and tenth in the world by the number of digital workers, and is more than open to investments that would lead to new job creation. Sormaz said that US image in the public needs to be improved because the people are not aware of the fact that Serbia enjoys good cooperation with the US, one that can be further deepened and strengthened.

Scott said that his term of office is coming to an end and was grateful for the heartfelt hospitality and friendship extended to him, his family and the staff of the US Embassy.


---
---
monday, 16 may
No announcements for selected date