National Assembly of the Republic of Serbia / Activities / Activity details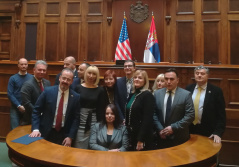 18 December 2019 The members of the PFG with the US and the US Ambassador to Serbia
Thursday, 19 December 2019
PFG with US Meets with US Ambassador to Serbia
The Parliamentary Friendship Group with the United States met with US Ambassador to Serbia H.E. Anthony Godfrey to exchange views on how best to improve the relations between the two countries.
---
The Head of the PFG Dragan Sormaz said that though improving relations between the US and Serbia is an ongoing process there is still ample room to advance and deepen cooperation.
For most of the past, Sormaz said, the US and Serbia enjoyed friendly relations that only cooled down after the 1990s.
US Ambassador to Serbia H.E. Anthony Godfrey said that the two chief goals of his mandate in Serbia are to improve the relationship between the two countries and support Serbia on its path to the EU. It is in the US interest to see the Western Balkan become a stable environment. He also said that he fully supports Serbia's efforts to join the EU and build a democratic and modern order in the state.
Godfrey added that the two countries also enjoy noteworthy military cooperation, emphasizing the relationship between the Serbian Armed Forces and the Ohio National Guard.
The Ambassador stressed that his chief commitment is to support democratic values and Serbia's European integration efforts, adding that the US would not interfere in the country's foreign policy, but that it would be good to work on advancing relations with Brussels because of Serbia's EU aspirations.
Speaking of the relationship with Pristina, he explained that it needs to be normalized, but the US would not impose any solutions. "A mutually acceptable solution is needed to make sure that everyone is satisfied, otherwise any normalization will be short-lived", Godfrey explained.
According to him, it is vital to focus on the positive effects of cooperation and raise awareness on the importance and benefits of good relations in the media. The negative preconceptions are slowly changing and the Serbian society is becoming more open to friendly cooperation. "I have only been here a little over six weeks, but I have been welcomed with earnest wishes to advance cooperation. Serbia is very much present in the US media which proves we see it as a good partner with which we would like to have a successful cooperation", the Ambassador added.
---
---
monday, 16 may
No announcements for selected date