National Assembly of the Republic of Serbia / Activities / Activity details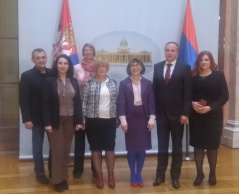 18 December 2019 The Head and members of the PFG with the UK and the UK Ambassador to Serbia
Wednesday, 18 December 2019
PFG with UK Meets with UK Ambassador to Serbia
The Head and members of the Parliamentary Friendship Group with the UK met with UK Ambassador to Serbia H.E. Sian MacLeod at the National Assembly House today.
---
The Head of the PFG MA Dejan Radenkovic said that the diplomatic relations with the UK date back to 1837 making it one of the first countries Serbia established diplomatic relations with.The parliamentary relationship between the two countries is excellent but there is still room to advance the cooperation and make it more effective, he said explaining that this mainly depends on the MPs' initiative.
Radenkovic thanked the UK for the many donations and the Westminster Foundation for democracy for helping modernize and improve the operation of the Serbian parliament.
EU accession is one of Serbia's top goals, he said, stressing that the country's progress toward European integration is stable. He also added that the problems between Belgrade and Pristina need to be resolved through dialogue.
UK Ambassador to Serbia H.E. Sian MacLeod said that her chief goal is to advance and strengthen the relations between the UK and Serbia, especially trade, and to expand overall cooperation to include a variety of areas, primarily environmental protection and digitalization.
Mentioning Prime Minister Boris Johnson and the Conservative Party's win in the recent elections, MacLeod spoke about the future of UK's cooperation with the EU. She also said that as someone who has dealt with democratization and the rule of law and UK representative in the OSCE, she is a principled supporter of strengthening democracy and open pluralistic society.
The UK Ambassador stressed that stability, security and prosperity of the Western Balkans is vital for the UK, because the stability of the UK itself depends on it.
The meeting was also attended by MPs Gordana Comic, Dr Sci.med. Danica Bukvic, Vladimir Djuric, Aleksandra Cabraja and Dr Danijela Stojanovic who, among other things, proposed organizing a workshop or roundtable where the members of the two parliaments could exchange views on the role of the UK post-Brexit foreign policy in the region. They also opined that the UK helping with the reform to create a better business environment in Serbia would be very useful in attracting foreign investments and elevating standards. They also emphasized the importance of cultural cooperation for the advancement of bilateral relations.


---
---
monday, 23 may
No announcements for selected date