National Assembly of the Republic of Serbia / Activities / Activity details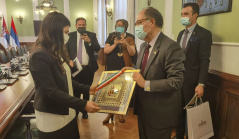 24 May 2021 The Head and members of the PFG with Mexico meet with the Mexican Ambassador to Serbia
Monday, 24 May 2021
PFG with Mexico Meets with Mexican Ambassador to Serbia
The members of the Parliamentary Friendship Group with Mexico, headed by Ana Karadzic, met today with Mexican Ambassador to Serbia H.E. Carlos Felix.
---
At the beginning of the meeting, the Head of the Parliamentary Friendship Group Ana Karadzic congratulated the ambassador on the 75th anniversary of the establishment of diplomatic relations between Serbia and Mexico, saying that Mexico amply demonstrated that it was a true friend in the most difficult times, namely the disintegration of Yugoslavia when many consular missions left Belgrade and severed diplomatic relations. "We hope that the traditional friendship and good relations will be an obligation and an incentive to improve relations and cooperation in the future, in the mutual interest of our peoples", stressed the MP. Karadzic was also grateful for the support in organising the 141st Assembly of the Inter-Parliamentary Union in the Republic of Serbia in 2019, headed by Gabriela Cuevas Barron, and took the opportunity to thank Mexico for respecting Serbia's territorial integrity and sovereignty in accordance with UNSC Resolution 1244. She pointed out that Serbia will continue to advocate furthering relations, adding that cooperation could be intensified in the field of trade, military-technical cooperation and tourism. She went on to say that the National Assembly's Parliamentary Friendship Group with Mexico has 30 members, i.e. MPs who joined this Group.
The Ambassador thanked the host for the kind words, stressing that this is a special day for both countries, as the 75 years of diplomatic relations without interruption are proof of a sincere and strong friendship. Felix said that Serbia and Mexico today have a developed political dialogue and the two countries' cultural exchange is the product of intensive parliamentary relations. The Ambassador added that Mexico will continue to support the territorial integrity and sovereignty of the Republic of Serbia and took the opportunity to inform the MPs about the parliamentary election process underway in Mexico. He said that, as soon as the Parliamentary Friendship Group with Serbia is formed in the Mexican Parliament, he would be happy to take on the role of mediator and arrange a meeting between the two parliamentary groups. The Ambassador congratulated Serbia on the excellent results in the fight against the pandemic and, on behalf of the Mexican Parliament, thanked the MPs for the opportunity to discuss the further deepening of friendly relations.
The meeting was also attended by members of the PFG with Mexico Prof. Dr Ljubisa Stojmirovic and Velibor Stanojlovic, who pointed out the similarities between the two peoples and the great friendship between Serbia and Mexico, not damaged in the times of trouble witnessed by both countries.
---
---
friday, 1 july
11.00 - the National Assembly Speaker addresses the conference on the Position of Serbia's in the Euro-Atlantic Community (National Assembly Building, 14 Kralja Milana Street, Grand Hall)