National Assembly of the Republic of Serbia / Activities / Activity details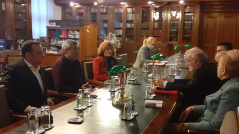 14 December 2020 The Head and members of the Parliamentary Friendship Group with Cuba in meeting with the delegation of the Serbian-Cuban Friendship Society
Monday, 14 December 2020
PFG with Cuba Meets with Delegation of Serbian-Cuban Friendship Association
The Head and members of the Parliamentary Friendship Group with Cuba met today in the National Assembly House with a delegation of the Serbian-Cuban Friendship Association Belgrade.
---
The vice-president of the Serbian-Cuban Friendship Association Sveto Dobrojevic, briefed the PFG members on the Association's realized and planned activities and invited them to take active part in the its work through joint cultural events and humanitarian actions.
Dobrojevic also invited the members of the Group to jointly participate in the video conference of the European Solidarity Congress, to be held in June 2021 in Moscow.
He emphasized that Serbia and Cuba are bound by a sincere long-standing friendship which is one of the reasons why Cuba will not recognize Kosovo's unilateral declaration of independence under any circumstances, and expressed hope that Serbia will show solidarity and at the next UN General Assembly vote for the lifting of all the blockades and sanctions imposed on Cuba by the United States.
The Head of PGP with Cuba Prof. Dr Ljubisa Stojmirovic said he was very interested in developing intensive cooperation with the Serbian-Cuban Friendship Association, which was supported by Group members Natasa Jovanovic, Josip Broz, Milan Djurica and George Komlenski. They believe that the members of the Parliamentary Friendship Group can be an additional link to bring the two nations closer by helping the activists of the Association establish better communication with the local self-government, as well as support when Cuban athletes, scientists and artists visit Serbia.
---
---
thursday, 11 august
No announcements for selected date