National Assembly of the Republic of Serbia / Activities / Activity details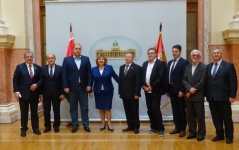 24 October 2016 The Parliamentary Friendship Group with Belarus and Belarusian delegation
Monday, 24 October 2016
PFG with Belarus Meets with Belarusian Delegation
The Parliamentary Friendship Group with Belarus met today, at the National Assembly House, with a delegation of the Republic of Belarus, headed by Liliya Ananich, Belarusian Minister of Information.
---
Dragomir Karic, Head of the PFG with Belarus, thanked Liliya Ananich on the behalf of the PFG members and himself, for her first official visit to Serbia, stressing that the PFG with Belarus with its 44 members was among the largest ones at the National Assembly and adding that, when it comes to friendship with Belarus, the parliamentary majority and opposition stand united. He also said that the cooperation between the two countries' highest officials is quite intensive, adding that no efforts were spared to strengthen economic cooperation, firmly grounded in the friendly relations.

National Assembly Deputy Speaker Prof. Dr Vladimir Marinkovic said that the two countries' relations are above all friendly and that, though their economic cooperation and trade are good, there is always room for improvement, especially in the sphere of culture and exchange of information.

Belarusian Minister of Information Liliya Ananich thanked the MPs for the opportunity to visit the National Assembly, saying she was proud of the excellent relations between the two countries which, according to her, could serve as example for the European countries.

The officials also discussed the Belgrade Book Fair and concrete cooperation as regards the wider market where a larger number of books translated into both languages could the placed, and the Minister said that the Republic of Belarus alone annually publishes more than 11,000 titles. Ananich also said that the flow of information is very important in daily life and promised to propose to the Ministry of Education, Science and Technological Development to set up a Serb-Belarus TV programme in Serbia.

At the end of the meeting, the Head of the PFG with Belarus Dragomir Karic was presented with a letter of gratitude for his personal contribution to the advancement of relations between the two countries.

After the meeting, the attending were presented the book by Prof. Dr Ivan Charota "Belarusians about Serbia and Yugoslavia".


---
---
| M | T | W | T | F | S | S |
| --- | --- | --- | --- | --- | --- | --- |
| 27 | 28 | 29 | 30 | 31 | 1 | 2 |
| 3 | 4 | 5 | 6 | 7 | 8 | 9 |
| 10 | 11 | 12 | 13 | 14 | 15 | 16 |
| 17 | 18 | 19 | 20 | 21 | 22 | 23 |
| 24 | 25 | 26 | 27 | 28 | 29 | 30 |
| 31 | 1 | 2 | 3 | 4 | 5 | 6 |
saturday, 15 august
No announcements for selected date