National Assembly of the Republic of Serbia / Activities / Activity details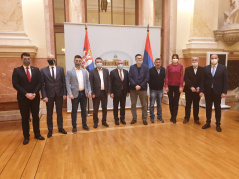 7 December 2020 Members of the Parliamentary Friendship Group with Armenia in meeting with the non-resident Ambassador of the Republic of Armenia
Monday, 7 December 2020
PFG with Armenia Meets with Non-Resident Armenian Ambassador
The members of the Parliamentary Friendship Group with Armenia headed by Aleksandar Cotric met today with H.E. Ashot Hovakimyan, non-resident Ambassador of the Republic of Armenia.
---
The Ambassador pointed out that the 27-strong Parliamentary Group with Armenia speaks in favour of the fact that the ties between the two countries are at a high level and expressed satisfaction that Serbia is ready to deepen its good relations with Armenia.
Cotric stressed it was a great pleasure and honour for the Friendship Group to talk to the Ambassador, especially in these challenging times brought on by the global pandemic. Cotric pointed out that the Ambassador is a great friend of Serbia who has been working on connecting our peoples since the time of the federal states of Yugoslavia and Russia. He added that the Ambassador has also personally advocated for the friendship of Serbia and Armenia, and that the abolition of visas for Armenian citizens to visit Serbia, as well as the opening of the Embassy of the Republic of Serbia in Yerevan, contributed to the rapprochement of the two nations. As the Head of the PGP said, the political and economic ties between the two countries have also been improved by the engagement of the two presidents and visits at the highest level.
In the continuation of the meeting, the members of the Parliamentary Friendship Group asked about the situation in Karabakh, especially after the arrival of the Russian peacekeeping contingent. The Ambassador pointed out that a large number of the population left Karabakh in fear and there have also been problems concerning the cultural heritage is located in this territory. Hovakimyan added that the exchange of hundreds of prisoners, stipulated by the peace agreement, has not been realized, and the Karabakh border which has not been clearly defined in the past 30 years, is also disputable.
Cotric expressed hope that the two countries will exchange bilateral visits when the situation with Karabakh in Armenia stabilizes and the epidemiological situation allows. He took the opportunity to once again thank the Republic of Armenia for its principled position and non-recognition of the so-called state of Kosovo.
The members of the Parliamentary Friendship Group and the Ambassador agreed that the two nations share a very similar history, which is not uncommon for Orthodox states.
The meeting was attended by Prof. Dr Ljubisa Stojmirovic, Vuk Mircetic, Ivana Nikolic, Nebojsa Pavlovic, Boris Bursac, Bojan Torbica and Djordje Todorovic.
---
---
tuesday, 26 september
13.00 - press conference of the MPs of the DIRECTION EUROPE – SSP, PSG, OVERTURN, SLOGA; Green – Left Front, Don't Let Belgrade D(r)own; Democratic Party – DS; WE HAVE TO – TOGETHER and People's Movement of Serbia – Ecological Uprising – New Face of Serbia parliamentary groups (National Assembly House, 13 Nikola Pasic Square, Central Hall)