National Assembly of the Republic of Serbia / Activities / Activity details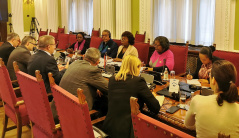 31 January 2020 The PFG with Angola in meeting with the delegation of the National Assembly of the Republic of Angola
Friday, 31 January 2020
PFG with Angola and Angolan National Assembly Delegation Talk Advancement of Economic Cooperation
The Head of the PFG with Angola Dragomir Karic stressed that there is ample room to advance cooperation between the two countries, primarily in the economic and cultural domain. He believes that it would be a good idea to exchange technologies in the interest of creating new products from Angola's natural resources for the European market.
---
Karic reminded the guests that Serbia is an EU candidate state and after the country's Euro-integration is completed Angola can count on a true friend in the EU. The fact that Serbia has free trade agreements with a number of countries in Europe and the world can be another important aspect for Angola. Karic also pointed out the importance of cultural and sporting cooperation as the quickest and best way to foster ties the two people.
The Chairperson of the Committee on Foreign Affairs, International Cooperation and Diaspora of the Republic of Angola National Assembly of the Republic of Angola Josefina Perpetua Peres D. Pitra Diakite spoke about the two countries' friendly relations which deserve to be advanced and strengthened especially in terms of economy.
"There is a political will and wish for it as evidenced by the Cooperation Agreement to be signed by the two countries' parliament speakers in the course of the current visit", Diakite said. She announced that the Angolan Parliament launch an initiative to set up a PFG with Serbia which she believes will develop a productive cooperation with the colleagues from the Serbian National Assembly.

The member of the PFG with Angola Prof. Dr Ljubisa Stojmirovic spoke about the importance of cooperation in the field of education in response to general globalization and the fight against the modern challenges of food, peace and job shortage. In that context, Diakite said she hoped Serbia would consider securing more scholarships for Angolan students.
The member of the PFG with Angola Zvonimir Djokic took the opportunity to thank Angola for not voting for the unilaterally declared independence of Kosovo and against its UNESCO bid.

The meeting was also attended by the member of the PFG with Angola MA Igor Becic and Angolan delegation members Vicente Pinto de Andrade and Maria Luisa Andrade.


---
---
friday, 1 july
11.00 - the National Assembly Speaker addresses the conference on the Position of Serbia's in the Euro-Atlantic Community (National Assembly Building, 14 Kralja Milana Street, Grand Hall)