National Assembly of the Republic of Serbia / Activities / Activity details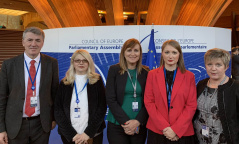 29 January 2020 The Serbian delegation at the winter session of the Parliamentary Assembly of the Council of Europe
Wednesday, 29 January 2020
PACE Elects New Officials from Serbian Delegation
On 28 January, in Strasbourg, the Parliamentary Assembly of the Council of Europe appointed Elvira Kovacs Chairperson of the Sub-committee on Gender Equality, while today it appointed Biljana Pantic Pilja Vice-Chairperson of the Committee on the Election of Judges to the European Court of Human Rights.
---
Elvira Kovacs defended the informative memorandum of her Report Preserving Europe's linguistic, ethnic, cultural and national diversity before the PACE Committee on Equality and Non-Discrimination. In debate with Dunja Mijatovic, Council of Europe Commissioner for Human Rights, it was concluded that language policies should promote diversity, protect minority rights and reduce tensions.
The Serbian delegation continues to take active part in the PACE winter session which is today set to tackle topics of great importance for the future of the Council of Europe viz. to rule on the complementary joint procedure between the Committee of Ministers and PACE in response to a serious violation by a member State of its statutory obligations, as well as conclude the debate on the ratification of the credentials of the Russian Federation.

---
---
saturday, 16 january
No announcements for selected date