National Assembly of the Republic of Serbia / Activities / Activity details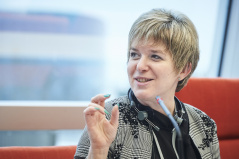 3 October 2019 MP Elvira Kovacs
Thursday, 3 October 2019
PACE Appoints Elvira Kovacs National Minority Rights Rapporteur
Today in Strasbourg, France, Elvira Kovacs, member of the Serbian delegation and Chairperson of the Committee on Equality and Non-Discrimination of the Parliamentary Assembly of the Council of Europe, was elected rapporteur on preserving the linguistic, ethnic, cultural and national identity of minorities in Europe.
---
The European standards for the protection of minority rights were established by the 1995 Framework Convention for the Protection of National Minorities.
In light of the rising rhetoric of stigmatization of diversity, the Parliamentary Assembly wishes to reaffirm that respecting linguistic, ethnic, cultural and national diversity is the cornerstone of the human rights protection system in Europe.
Through the report, the Assembly will analyse how the Framework Convention has been implemented, achievements and best practice examples. The purpose of the report is to show how the Convention contributes to the efficient protection of national minorities, their rights and freedoms, and the present best practice examples from the Council of Europe member states.


---
---
tuesday, 25 january
12.00 - the National Assembly Speaker meets with representatives of the Chamber of Nurses and Healthcare Technicians (National Assembly House, 13 Nikola Pasic Square, hall 1)