National Assembly of the Republic of Serbia / Activities / Activity details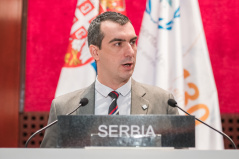 16 October 2019 The Head of the National Assembly Delegation to IPU Dr Vladimir Orlic at the general debate on "Strengthening international law: Parliamentary roles and mechanisms, and the contribution of regional cooperation"
Wednesday, 16 October 2019
Orlic Speaks at IPU General Debate
Dr Vladimir Orlic, Head of the National Assembly delegation to the Inter-Parliamentary Union, spoke at the general debate with the topic "Strengthening international law: Parliamentary roles and mechanisms, and the contribution of regional cooperation" at the 141st IPU Assembly in Belgrade.
---
He stressed that the role of the parliament has been internationalized and we can speak of parliaments as active participants on the international scene. Peace and Cooperation at the global and regional level, commitment to the rule of law and respect of international law are the cornerstones of Serbia's domestic and foreign policy efforts.
"Despite the fact that Serbia has recently in the case of Kosovo-Metohija fallen victim to a flagrant disregard of international law, its norms and principles, undermining of sovereignty and territorial integrity and all the challenges it is facing now due to Pristina's unilateral moves, Serbia has never given up on these postulates but always tried to reaffirm them. The example of Kosovo-Metohija is the best testament to the importance of respecting international law and the consequences of what happens if it is not" stressed Orlic.

He cited the series of unilateral moves by Pristina that oppose the principles of regional cooperation and international law, such as the introduction of the anti-civilization 100% customs tariff on goods from central Serbia and Bosnia and Herzegovina, adoption of the so-called Platform for political dialogue with Belgrade, failure to comply with the Brussels Agreement, attempts to build an army contrary to UNSC Resolution 1244, abuse of cultural heritage, restriction of the freedom of movement of officials and citizens alike, threats, physical attacks, making clear that this is not about the fate of a territory, but the fate of a people - both Serbian and Albanian - who are also affected by all these measures. Orlic stressed that this is not only about the need to respect the right to one's identity, language and culture, but above all the right to life, and there is no opposing international legal argument.
"Despite it all, Serbia is ready to continue the dialogue as soon as the customs are abolished and to continue in a peaceful manner, in accordance with the principles of international law, to resolve the issue of Kosovo and Metohija, which is of great importance for the stability of the region", Orlic said .
He stressed that today, as we face a world of constant change, speaking of the Fourth Industrial Revolution, trying to predict its implications for, among other things, national and international security, the importance of international law becomes patently clear.

"It clearly demands that we get more involved with international policies and follow international developments. In that sense, the role of the parliament should and must be strengthened through direct engagement in the political systems and through international organizations, primarily the IPU, its institutes and mechanisms of action", Orlic concluded.


---
Photo gallery
---
---
tuesday, 18 january
14.00 - the National Assembly Speaker meets with OSCE Parliamentary Assembly Secretary General (National Assembly House, 13 Nikola Pasic Square, diplomatic salon of Prince Pavle)