National Assembly of the Republic of Serbia / Activities / Activity details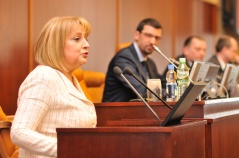 31 March 2012 National Assembly Speaker Prof. Dr Slavica Djukic Dejanovic
Saturday, 31 March 2012
Open Door Day at AP Vojvodina Assembly
The Speaker of the National Assembly of the Republic of Serbia, Prof. Dr Slavica Djukic Dejanovic took part in the event Open Door Day at AP Vojvodina Assembly, dedicated to the Republic of Serbia's gaining European Union candidate status.
---
Djukic Dejanovic was pleased that the AP Vojvodina Assembly, via its Open Door Day event, has made it possible for the citizens to establish two-way cooperation and direct communication.
Speaking about the European integration process, she stressed that assemblies on all levels, from the national and provincial parliament to local assemblies, have greatly contributed to the creation of a pro-European atmosphere. Speaker Djukic Dejanovic presented the work of the National Assembly of the Republic of Serbia which managed, in its current mandate, to adopt 196 of the 212 laws planned by the National Programme for European Integration, which the European Commission deemed very successful. She was especially pleased to mention that, following the amendment to the legislation, the next legislature of the National Assembly would comprise a minimum of 84 female MPs, which is a material step toward achieving gender equality.
The citizens also spoke to AP Vojvodina Assembly Speaker Sandor Egeresi, Serbian Assembly's European Integrations Committee Chairman Laszlo Varga and Srdjan Majstorovic, Deputy Director of the Government of the Republic of Serbia European Integration Office.

---
---
thursday, 6 october
10.15 - the National Assembly Speaker meets with the Iranian Deputy Foreign Minister (National Assembly House, 13 Nikola Pasic Square, hall 1)

10.30 - press conference of MPs Radomir Lazovic and Robert Kozma (National Assembly House, 13 Nikola Pasic Square, Central Hall)

11.00 - sitting of the Environmental Protection Committee (National Assembly House, 13 Nikola Pasic Square, hall 3)

11.00 - sitting of the Committee on Administrative, Budgetary, Mandate and Immunity Issues (National Assembly House, 13 Nikola Pasic Square, hall 4)

12.00 - the Chairman of the Foreign Affairs Committee meets with the Polish Ambassador to Serbia (National Assembly House, 13 Nikola Pasic Square, hall 2)

13.30 - press conference of MP Dejan Bulatovic (National Assembly House, 13 Nikola Pasic Square, Central Hall)

14.00 - the Chairman of the Foreign Affairs Committee meets with the UK Ambassador to Serbia (National Assembly House, 13 Nikola Pasic Square, hall 2)