National Assembly of the Republic of Serbia / Activities / Activity details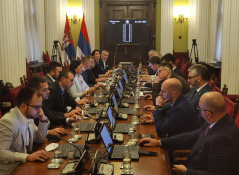 23 December 2021 Ninth Sitting of the Committee on the Diaspora and Serbs in the Region
Thursday, 23 December 2021
Ninth Sitting of the Committee on the Diaspora and Serbs in the Region
At the sitting held on 23 December 2021, the members of the Committee on the Diaspora and Serbs in the Region discussed foreign policy and relations with a special focus on the region and the position of the Serbian community in it, as well as the activities of the Directorate for Cooperation with the Diaspora and Serbs in the Region.
---
The sitting was attended by the Minister of Foreign Affairs Nikola Selakovic who informed the Committee members about the Ministry's activities in the past 14 months, presenting data on the number and type of meetings with foreign officials, the most important topics and the amount and type of assistance the Republic of Serbia sent to our compatriots in the region.
The Minister proposed intensifying cooperation between the Committee and the Ministry of Foreign Affairs in terms of participation in regional political events.
The MPs expressed satisfaction with the established cooperation with the Ministry of Foreign Affairs and the good exchange of information needed for the functioning of international bilateral and multilateral cooperation.
Committee Chairman Milimir Vujadinovic pointed out that this was one of the best and most productive of the Committee's sittings in the current legislature, and perhaps beyond.
The sitting was chaired by Committee Chairman Milimir Vujadinovic and attended by the following Committee members and deputy members: MA Jadranka Jovanovic, Aleksandar Cotric, Slobodan Alavanja, Goran Milic, Petar Vesovic, Mladen Boskovic, Milan Ilic, Miodrag Linta, Aleksandar Markovic, MA Slavenko Unkovic, Radovan Tvrdisic, Haji Milorad Stosic and Justina Pupin Koscal.
---
Committees related to this activity
---
---
tuesday, 31 january
11.00 - the National Assembly Speaker meets with the Greek Ambassador to Serbia (National Assembly House, 13 Nikola Pasic Square, hall 1)