National Assembly of the Republic of Serbia / Activities / Activity details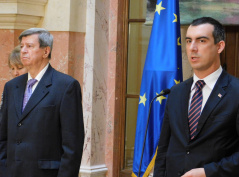 30 October 2018 SAPC co-chairs Dr Vladimir Orlic and Eduard Kukan
Tuesday, 30 October 2018
Ninth Meeting of European Union-Serbia Stabilisation and Association Parliamentary Committee Recommendations and Declaration Adopted
The National Assembly and European Parliament delegations continued the ninth meeting of the European Union-Serbia Stabilisation and Association Parliamentary Committee (SAPC) on 30 October with a talk on the newest developments in the dialogue between Belgrade and Pristina with EU mediation, foreign, security and defence policy and cooperation, EU pre-accession aid to Serbia as well as presentation of EU benefits to the citizens.
---
The next, 10th SAPC meeting will be held on 27-28 March 2019 in Strasbourg.
SAPC meeting co-chair, head of the Serbian delegation Dr Vladimir Orlic thanked the colleagues for the comprehensive discussion and exchange of opinions, as well as the cooperation which they agreed is the essence of bringing Serbia closer to the best-organized society existing today.

Click
here
to watch the press conference co-chairs Orlic and Kukan held after the ninth meeting was completed.
---
---
thursday, 2 february
9.30 - press conference of MPs Dr Milos Jovanovic, Vojislav Mihailovic, Milica Djurdjevic Stamenkovski and Bosko Obradovic (National Assembly House, 13 Nikola Pasic Square, Central Hall)

10.00 - Third Special Sitting of the National Assembly of the Republic of Serbia, 13th Legislature (National Assembly House, 13 Nikola Pasic Square)

12.00 - press conference of MP Aleksandar Jerkovic (National Assembly House, 13 Nikola Pasic Square, Central Hall)

14.00 - press conference of MP Dejan Bulatovic (National Assembly House, 13 Nikola Pasic Square, Central Hall)

15.15 - press conference of MP Aleksandar Olenik (National Assembly House, 13 Nikola Pasic Square, Central Hall)